---
Name: mary lou
Residing:
Time: 11/5/2011 8:44:12 AM
Subject: dushore
Comments:
Barbara is Dushore a little town upstate with a Convent on the hill overlooking it? I remember visiting my Aunt At a Convent I think it was Dushore. It was abeautiful place in the 50's marylou
---
Name: Frank Demaio
Residing: chester (still)
Time: 11/4/2011 2:46:13 PM
Subject: Stotters
Comments:
Hi Barbara, As kids, postwar, and during the war actually, my parents took us to stotters every year to see whatshisname and the giant tree in market square that went up right after turkey day. The square was a place of wonder in itself back then. We'd wander around in the cold, stopping in all the stores, all the lights aglow, xmas music everywhere, then we'd all meet up in stotters, the grandest store in the WORLD and ride up the escalator to place our orders with the guy in red. Christmas has lost its magic in the lifetime thats passed since those days, more gloom than glee now. But once in a while you'll see that old glow in a little kids face and you'll remember for a moment how it used to be. Happy thanksgiving
---
Name: Barbara Montello
Residing: Dushore Pa
Time: 11/1/2011 9:02:45 PM
Subject: Thanksgiving
Comments:
Having dinner with family and friends and then going to downtown Chester because that is when they turned on all the Christmas Lights. That really was a big thing back in the late 40's, then of to the movie, usually the Stanley.
---
Name: Harvey Martin
Residing: Parkside
Time: 10/31/2011 11:29:13 PM
Subject: Daniel Wood
Comments:
DANIEL WOOD Obituary 1/2/1932 The funeral of Daniel Wood, retired pioneer Chester business man, whose death occurred Wednesday at the home of his son-in-law and daughter. Mr. and Mrs. Cooley Lilley of Moylnn, Rose Valley, will take place this afternoon, with services at. 2:30 o'clock, at the home of his son. Dr J William Wood, Twentieth street and Melrose avenue. The internrment at Chester Rural cemetery, will be private. Mr. Wood, who was 85 years old came to this county from England in 1873. He located in this city and for a number of years was employed at the old Roach Shipyard. He established a shoe store at 310 Market street, which he conducted for over thirty years. He was a member of the Madison Street M. E. Church and took an active interest in the affairs of several of the organizations connected with the church. Mr. Wood Is survived by two sons, John M., and Dr. J. William Wood; three daughters. Mrs Robert C. Scott of Elizabeth, N. J.: Mrs. John H. Burn, of this city, and Mrs Cooley Lilley. of Moylan. Rose Valley. Eleven grandchildren and three great-grandchildren. Mr. Wood's wife, Jane Maynhart Wood, died at Rose Valley four years ago. http://66.241.199.22/wood_daniel_store.htm
---
Name: Mary Lou
Residing: lancaster
Time: 10/31/2011 10:25:18 AM
Subject: halloween
Comments:
Happy Halloween How about some memories of trick or treating in Chester as a youth. One of my first memories is we always had tomato soup and grilled cheese sand. We would have to eat it all before we could go out. Every year we would be sitting at the table eating and Johnny Baroni would knock on the door in his costume. He was always the first one!
---
Name: Barbara Montello
Residing: Dushore Pa
Time: 10/24/2011 7:32:53 PM
Subject: Birthday wishes
Comments:
Bud, Happy Birthday! Enjoy your day.
---
Name: Barbara Montello
Residing: Sullivan County
Time: 10/19/2011 6:25:44 AM
Subject: Walmart
Comments:
Frank, there is nothing wrong with your post about Walmart's, you told it just the way you felt. It's not right to be treated the way you were. Walmart offered a service and should have followed through and that person should be fired.
---
Name: Dave Andrews
Residing:
Time: 10/18/2011 10:56:47 PM
Subject: John's Phone number
Comments:
Frank John lists his phone number on his site.Click on " What's New" and then "Contacting Me".It is a (336) number and is in N.C. He will be glad to hear from you.
---
Name: Barbara Montello
Residing: Sullivan County
Time: 10/17/2011 7:51:40 PM
Subject: John Bullock
Comments:
I did talk to John last week and he has not moved to Georgia. The posting about the last reunion with John living in Georgia was a mistake.
---
Name: Frank Demaio
Residing:
Time: 10/13/2011 11:33:46 PM
Subject: JB
Comments:
I would call him, just out of curiosity, but I dont have his number anymore. Be nice to know what became of him. If anybody finds out please post info on here. PS Hope i didnt offend anybody with my walmart rant. It was just my way of saying dont go there if you're hoping for any kind of customer courtesy or service. thanks
---
Name: Dave Andrews
Residing:
Time: 10/13/2011 9:34:58 PM
Subject: O.C.Pa.
Comments:
In did not know that John to moved to Georgia.He used to live in North Carolina . The few people who still post or read the history know that that this is not not a site that John Bullock "used to have".
---
Name: Harvey Martin
Residing: Parkside
Time: 10/13/2011 8:03:10 PM
Subject: oldchesterpa reunion
Comments:
OldChesterPa Reunion
The Chester Spirit reports that there was an OldChesterPa reunion on the outside deck of Harrah's race track last Saturday 10/8/11. It was sponsored by the Chester Historical Preservation Committee and there were exhibits by The Chester Club of the National Association of Negro Business and Professional Women's Clubs, Inc., the Chester YWCA, J. Lewis Crozer Library, Scott Paper Co., and The Delaware County Historical Society.
Carol Fireing, an officer of the Historical Preservation Committee, said that reason the reunion was held in October was, among other reasons, because William Penn's birthday is on Oct. 27th.
The article says John Bullock used to have a web site called OldChesterPa that chronicled much of Chester's History and that John was a native of Chester who now lives in Georgia.

---
Name: frank demaio
Residing:
Time: 10/10/2011 2:01:44 PM
Subject: horrors of walmart
Comments:
this morning I went to eddystone walmart for coffee and tick repellant. As I was leaving I went by the auto service dept. Surprised to see no cars in line at the tire lane. Aha, says I, nows my chance to get this chore done without a long wait. Parked, went inside to order tires. Dave at the counter wasnt sure they had my size in stock, so went out to check. Went missing among the tire racks for about 10 mins, came back to ask me the size again, disapppeared once more. Finally he came back and wrote my order. (IShould've taken the hint by now, but didnt.) Saw my car go up on the lift. Sat down in waiting room, read through a couple magazines. Looked out at shop, nothing going on with my car. Long time passed. A guy came over and started taking the wheels off. OK, says I, now we're cookin'. But no, now HE cant find the tires. Minutes pass, then i see him carrying the tires out to the work area. Now comes the hard part. It took him two hours to get the job done. Often when i looked out from the waiting room, he wasnt even in sight. And when he is, he's talking to somebody or working so slow you can barely see him moving. (I know, these poor bastards dont get paid much, but still... Thing is there's no suprvision, no manager for the whole dept, no shop foreman to keep things moving.) So there I am, stressing out in the waiting area, furious at myself for letting this happen to me, and he looks over at me once in a while and seems to move even slower. I usually dont play the race card, but then I decide he is 'makin whitey wait'. Ho hum, that old game again. Still, over two hours to get tires put on? Anywhere else would've been 20 minutes. Finally got out of there at 12:45. Vow to get coffee someplace else next time.
---
Name: ELK
Residing:
Time: 10/7/2011 3:09:21 PM
Subject: CHS 1954 reunion
Comments:
Don't know about the Sun Village reunion (held in the same location as ours) but the 57th reunion (CHS class of '54) was a delight. I hadn't been to a reunion in 30 years but what a treat to see friends/classmates from the old days. They all looked great.
---
Name: mary lou
Residing: lancaster
Time: 10/3/2011 10:58:11 AM
Subject: sun village reunion
Comments:
did anyone go to the reunion. How was it who was there? I work weekends and unable to attend but would love to hear about it or see pictures
---
Name: Harvey Martin
Residing: Parkside
Time: 8/5/2011 9:50:24 AM
Subject: Sun Village Reunion
Comments:
Dear Sun Villagers and Friends,
Welcome again to our annual reunion.
The Sun Village Reunion will be taking place this year on Saturday, September 24th., 2011.
The function will be taking place again at the Concordville Inn in Concordville PA.
The scheduled time for our get together is from 11:00am until 3:00pm, in the Courtyard room.
Attached to this e-mail you'll find the welcoming letter, along with the luncheon menu, and
a return receipt, which you should return with your payment for the luncheon.
Please call if any problems opening these documents.
I'm looking forward to once again sharing a good time's with everyone.
Everyone, take good care, and thank you.
Bill
(610-626-3769
)
---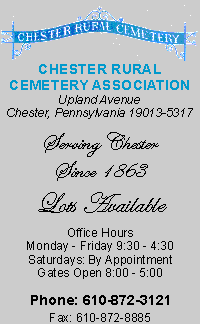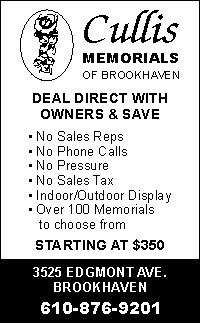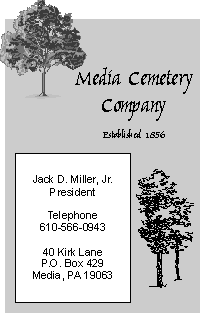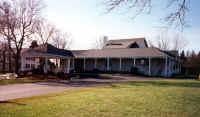 Minshall-Shropshire-Bleyler
Funeral Home, Ltd.
Media, PA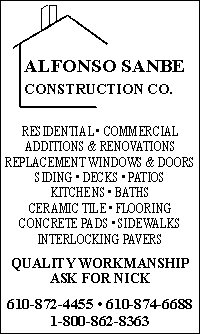 OldChesterPa
Classified Ads
For Sale
VINTAGE RECORDS
Over 200 records from the 1940's to 1970's. 33 1/3 ; 45;
78 . Classical, Gospel, Christmas, Pop, Walt Disney, original Broadway sound
Tracts Prefer to sell in lots, reasonable, customer must be local and pick up records. For appointment contact Martha, 610-876-6764 or e-mail here.
BOY SCOUT MEMORABILIA
1950-1970's. Many patches from the Valley Forge Council, National Jamborees, Camp Delmont. Call 610-876-6764
or Email here
Wanted to Buy
Looking for People
Robert Vaughan, former music director in the Chester-Upland School District is presently compiling information regarding students who continued in the field of music.
Please email him here or send a short resume of your career to: 821 Lakeport Blvd., Leesburg, FL 34748.
Place your ad Rates: $10 one month, $25 per quarter, or $100 for a full year.

Folks, this Dell ad has been here for several years but has never produced any income for the web site. It only pays if you click on it and make a purchase. Please keep this ad in mind if you're looking to buy a computer, printer, printer supplies or any of Dell's other great products!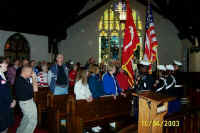 ---
• Have you enjoyed some pleasant trips down memory lane here?
• Have you gotten back in touch with former friends, classmates... even relatives?
• Has the website helped with your genealogy searches?
If your answer is "YES", please consider making a small contribution to the "OldChesterPa Heritage Foundation". If each person made even just a $10 or $20 donation, we could soon be assured that this rich resource of Chester's history would remain available for future generations.
Have you visited the
OldChesterPa.com Emporium lately?


Historic Chester Calendars
Chester History Books
Mugs
~ Also ~
Would you like to read some of the earlier entries in the Guest Book?
January 2003
February 2003
March 2003
April 2003
May 2003
June 2003
July 2003
August 2003
September 2003
October 2003
November 2003
December 2003
January 2002
February 1-20, 2002
February 21-28, 2002
March 1-15, 2002
March 16-31, 2002
April 1-15, 2002
April 16-30, 2002
May 1-15, 2002
May 16-31, 2002
June 1-15, 2002
June 16-30, 2002
July 1-15, 2002
July 16-31, 2002
August 2002
September 2002
October 2002
November 2002
December 2002
January - March 2001
April - June 2001
July - August 2001
September 2001
October 2001
November 2001
December 2001
---
This page last updated 05/19/09
Home | What's

| Attorneys | Biographies | Business | Cemeteries | Churches & Synagogues | City Directory 1859-1860
Civic/Social Organizations | Class Reunions | Doctors/Dentists | Fire Department | Funeral Homes | Government | Histories
Holidays & Special Events | Libraries | Links | Maps | Medical | Neighborhoods | Newspapers | Obituaries | Parks | Pictures | Police Department
Post Office | Professional Organizations | Radio & TV | Recreation | Schools | Sports | Tragedies | Transportation | Utilities | Veteran