What's

Some local Chester organizations that would be very appreciative of our support...
The Bernardine Center (Supercupboard)
2625 W. Ninth St., Chester, Pa. 19013
Phone 610-497-3225
Fax 610-497-3434
CityTeam Ministries
634 Sproul Street, Chester, PA 19013
Phone: 610-872-6865
Fax 610- 876-9914
Salvation Army Chester Corps
151 W. 15th St., Chester, PA
PO Box 1032, Brookhaven, PA 19015-0032
Phone: 610-874-4226
Fax 610-874-8927
If anyone would like to suggest others, I'd be happy to add them to this list.
Septembe 8, 2010
My friends,
Over the past week I have been busy on another major cleanup of our class reunion pages. I still have a few more to go but that section of the site should now be in much better shape at least for a while.
Now that I have nearly completed that cleanup, look for the launch of an OldChesterPa page on Faecbook.
Rest assured that although I have not been actively growing the site during the last 2 years, all the history that we have collected continues to be available to researchers around the world, 24 hours a day, 7 days a week, with just a few keystrokes. Perhaps one of these days I will get an energy re-charge and begin to again grow the site.
Meanwhile, I know it has been difficult to reach me because of the deluge of spam that continues to hit my email address here. About six months ago Susan insisted that I needed to establish a presence on Facebook so I would be happy to see you there too. Under my profile there, you'll find an alternate email address where you can reach me. As I get more familiar with Facebook's features, look for a "Fans of OldChesterPa" page to appear.
Thanks once again for all the memories!
Ye Olde (and very humble) webmaster,
John
---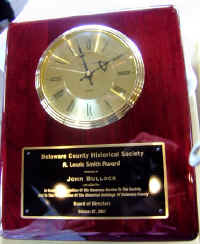 Many thanks to all for your very kind words of congratulations on the A. Lewis Smith award presented to me on Saturday October 27, 2007 by the Delaware County Historical Society and a special thanks to those who braved the uncertain weather to attend. While I am very appreciative of the award, once again I humbly accept in on behalf of all of you who have contributed to make OldChesterPa.com the rich source of Chester and Delaware County history that it has become. You are the ones who have so generously shared your stories, photos and knowledge of Chester so that we could build this online encyclopedia of Chester history!
- John
PS: The text on the plaque reads, "Delaware County Historical Society - A. Lewis Smith Award - Presented to - John Bullock - In Grateful Recognition of his Generous Service to the Society - and to the Preservation of the Historical Buildings of Delaware County - Board of Directors - October 27, 2007"
---
---
---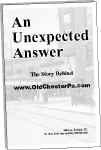 An Unexpected Answer, the Story Behind OldChesterPa.com, is now available, just 7.95 plus $1 s&h. Mail checks payable to "Graphic Details" to my address below.
John
351 Pin Tail Dr.
Reidsville, NC 27320-9186
---
Heritage Commission of Delaware County Presents Award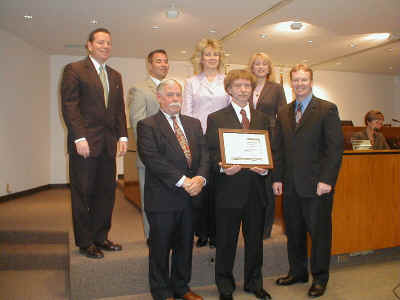 ---
Date
What's New...

5/13/2009


Many thanks to Charles "Dutch" Fehl for submitting an article and quite a few pictures of his parents' grocery store, Fehl's Grocery Store.

2/20/2009


Thanks to Robert Smith, West Palm Beach, FL, for sharing a picture and additional information about Smith's News Stand.

2/18/2009


Many thanks to Ed Larkin, Business Manager at St. Katharine Drexel Church for sharing with us pictures of the groundbreaking and also of the early construction of St. Robert's (now St. Katharine Drexel) Church.
2/2/2009
Article & photo from the February 20, 1922 New York Times regarding the sale of Buckman Village to be held on March 18, 1922. [Adobe pdf document courtesy of Jack Ralston]

For earlier additions to the site, check the "What's New" Archives:
2000, 2001, 2002, 2003, 2004, 2005, 2006, 2007
---
Folks, this Dell ad has been here for several years but has never produced any income for the web site. It only pays if you click on it and make a purchase. Please keep this ad in mind if you're looking to buy a computer, printer, printer supplies or any of Dell's other great products!
---
Database Results Error
The database connection named 'visitors' is undefined.

This problem can occur if:
* the connection has been removed from the web
* the file 'global.asa' is missing or contains errors
* the root folder does not have Scripting permissions enabled
* the web is not marked as an Application Root

Click here for the complete list (and some pictures) of our visitors!
Click here if you would like me to add you to our list. Also, be sure to sign the Guest Book at "The Newsstand"
List of Research Resources available at the Delaware County Historical Society library.
Paul Crowther has offered to do lookups in City Directories (1887-1893) for Allentown, Erie, Pittsburg, Bethlehem, Harrisburg, Reading, Bradford, Norristown, Scranton, Philadelphia, Wilkes-Barre, and CHESTER!
For those doing genealogy research, Helen M. (Webber) Imburgia has been kind enough to share with us a very useful list that she compiled of Research Facilities in Delaware County, PA. She has included contact info, library hours plus a summary of the holdings at each location!
Rick Nicholson, is in the process of posting the entire "1884 History of Delaware County" by H. G. Ashmead on the www.delcohistory.org website. This work is a wonderful source of information on the early years of Delaware County and is a must bookmark for those folks working on genealogy. Click Here for the direct link to the beginning of the pages that pertain specifically to the city of Chester.
---