Fireman Dies, 2nd Badly Hurt As 2 Chester Pumpers Collide
Chester Times, Saturday August 27, 1955

Joe Wright Victim of Tragedy

By Harry Grafton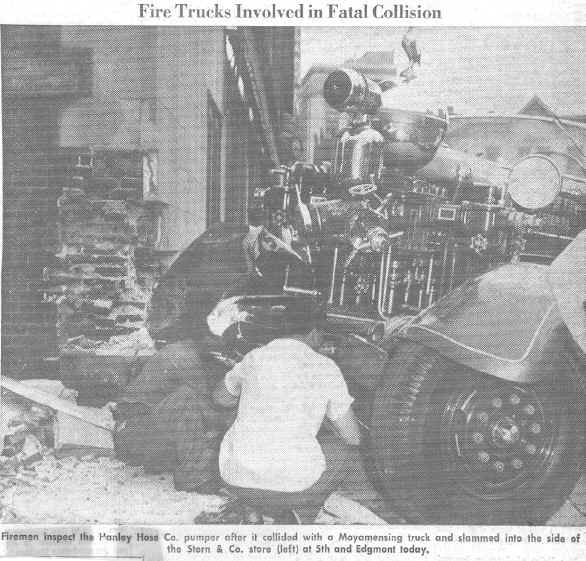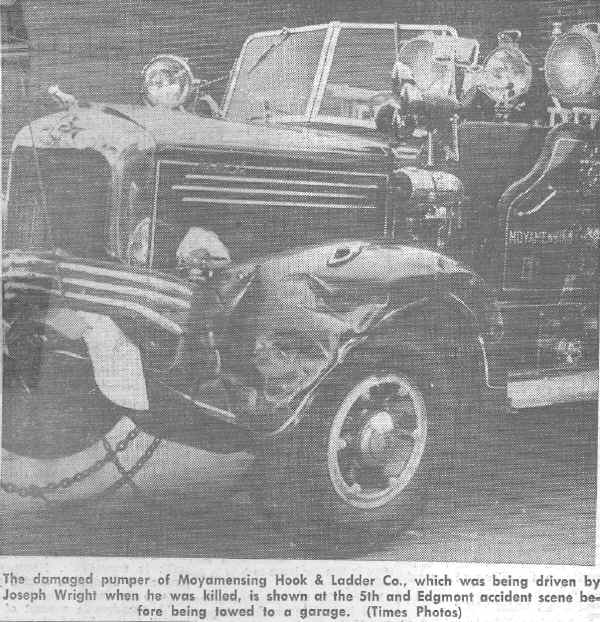 One fireman was killed and four others injured, one critically, when two fire trucks collided at 5th and Edgmont at 6 a.m. today.
The firemen were on their way to an accident on the 3rd street bridge in which a car overturned and was reported on fire. In that accident one man suffered a broken back and another was injured slightly, and the driver of the auto was accused of drunken driving and held in $500 bail for court.
Dead was Joseph R. Wright, 48, of 716 Crosby st., an extra relief driver for the Moyamensing Hook & Ladder Co.
In critical condition at Chester Hospital, with a depressed skull fracture was John Owens, 35, of 803 Potter st., a city policeman and a Moya volunteer.
Son-in-law Injured
The other injured firemen were Paul McDevitt, 32, of 313 E. 11th st., admitted with back injuries; Walter L. Collison, 23, of 706 Crosby st., son-in-law of Wright, treated for shoulder injuries and shock, both of Moya, and William Crowley, 52, of 246 E. 5th st., Hanley driver, detained with knee and body bruises.
Crowley, according to police, will be arrested on a technical charge of manslaughter.
Held on a drunken driving charge in the 3rd street accident was Elmer Demofonte, 27, of 2700 block Price st. John Chisel, 20, of 1211 W. 3rd st., was admitted to Chester Hospital with a broken back in that accident, while Wilbert Hunter, 35, of 42 W. 2nd st., suffered knee bruises. Both were reported to have been passengers in Demofonte's car.
Police were still working late this morning to piece together the series of events which led to the two accidents. Preliminary reports told this story:
Demofonte was driving east on 3rd street at 5:56 a.m. today, when he lost control of his car. The car sideswiped the bridge abutment, spun completely around several times, and struck a parked auto owned by Joseph J. Joyce of Main street, Locust Gap, Pa. Then the Demofonte car turned over and came to rest in the middle of the street on its roof. Gasoline spilled from the ripped tank and someone, apparently fearing fire, struck a fire alarm box at 3rd and Penn streets.
Three Companies Responded
Firemen from Moyamensing, Hanley and Franklin Fire companies responded to the alarm. The Moya pumper, with Wright driving and three volunteers standing on the rear platform, was heading south on Edgmont, while the Hanley truck with Crowley driving and the only occupant was heading west on 5th street. Crowley said afterwards he was to pick up additional men en route to the fire scene.
At the intersection of 5th and Edgmont the two pumpers collided. The Moya truck was spun completely around, throwing the four firemen to the highway. It came to a stop facing north across 5th street, with the rear almost touching the curb around the post office building.
The Hanley truck continued west on 5th street and approximately 75 feet past the intersection swerved to the right across the pavement and struck the rear corner of Stern's Department Store, knocking loose part of the building. Crowley also was jarred from the driver's seat to the pavement.
Meanwhile Patrolmen Robert R. Lowry Jr. and Herbert Wright were leaving police alley in a patrol car to assist and the 3rd street bridge accident. AS they turned onto 5th street, they reported they heard a "terrific crash."
Bodies All Over Street
When they reached Edgmont avenue, they reported "bodies were lying all over the street and sidewalk." They radioed for the Franklin Rescue Squad and additional police.
However, the rescue squad was in service at the bridge accident, and police telephone for ambulances from Chester Hospital and Eddystone Fire Co. to take the injured firemen to the hospital.
At Chester Hospital volunteers carried the stretchers into the accident room, as two interns and two nurses started emergency treatment of the more seriously injured.
When Collison was informed that his father-in-law, Wright, was dead he paced the accident room in a daze and had to be comforted and treated by nurses as he slipped into shock.
Badly Damaged
Back at the accident scene, additional police were pressed into service to detour traffic as the disabled pumpers, both of which suffered heavy damage, blocked 5th street between Edgmont avenue and Penn street. Nearby streets were also blocked off by police to enable ambulances and tow trucks to reach the scene.
Fire Chief John Calhoun and his two assistants, Harry J. Bomberger Jr. and Lewis Harper, were at the scene and launched an immediate investigation.
Francis X. Kelly, assistant director of public safety, announced that Traffic Capt. John F. Owsiany would head the police department's investigation into the collision.
Meanwhile Patrolmen Horace Fulton and John Boyle had taken Demofonte to Chester Hospital for treatment of head and face cuts. They reported afterwards that he created a disturbance there and had to be forcibly removed. He was then taken to the office of Dr. H. C. Donahoo, police surgeon, who issued a certificate of drunken driving.
At a hearing before Alderman Albert Berman in police court, Demofonte pleaded he was dazed by his head injuries and not drunk. He maintained he tried to cooperate with police and the doctor, who had reported he refused to identify himself at the accident, the hospital or in the police station until taken from a jail cell for the hearing. Berman set $500 bail on Demofonte.
Fireman for 20 Years
Wright was employed in the shipping department of Sun Ship for the last 18 years. In addition he was a paid extra relief driver for the Moya company for the last 10 years. He had been a volunteer fireman for the last 20 years.
Born in Upland, he had spent all his life in Chester. He was married to the former Mary Lewis and is survived by her and three daughters, Mrs. Doris Collison, of Chester; Jane and Susan Wright, both at home; a son, Joseph Jr., at home; four brothers, Winfield and William of Chester, Harry of Hamburg, and David of Glenolden; two sisters, Mrs. Susan Hager and Mrs. Frances Henderson, both of Chester, and three grandchildren.
Wright's body was turned over to Deputy Coroner Walter Kaniefski.
Owens, a patrolman since March 1949, a volunteer fireman for 15 years and past president of the Fraternal Order of Police and Chester Police Association, had just started his vacation from the police department. His wife, the former Betty Jones, and son, John Jr., 7, left last night to visit her sister, Mrs. Ralph Reid at Chincotegue Island, Va.
Police Sgt. Frank Schofield placed an emergency phone call to Mrs. Owens, advised her of her husband's condition and she was reported leaving immediately to return home. At the hospital, Owens was not expected to live through the day. Police were attempting to locate special nurses to care for him.
McDevitt, employed by the Navy Department at Hatboro, Pa., has been a member of Moya for 10 years; Collison for less than a year.
---
First Fire Co. Fatality Here Since 1882
Chester Times, Saturday August 27, 1955
The death of fireman Joseph Wright this morning, was the first time since Feb. 16, 1882, that a Chester fireman has died in the course of duty.
The 1882 tragedy, probably the worst in the history of Chester, took place at the Jackson Pyrotechnic Factory, 2nd and Welsh streets. Two firemen, and 15 residents and onlookers of the area were killed in a dual explosion following an early morning fire.
More than 40 people, including a Chester Times reporter, were seriously injured forcing every city doctor into service.
The dead firemen were: William Wood of the Franklin Fire Co., who died of head wounds, and Tony Barber of the Hanley Fire Co., who was thrown by the blast 140 feet into the Delaware River flats.
---
Firemen Try to Block Photos at Crash Scene
Chester Times, Saturday August 27, 1955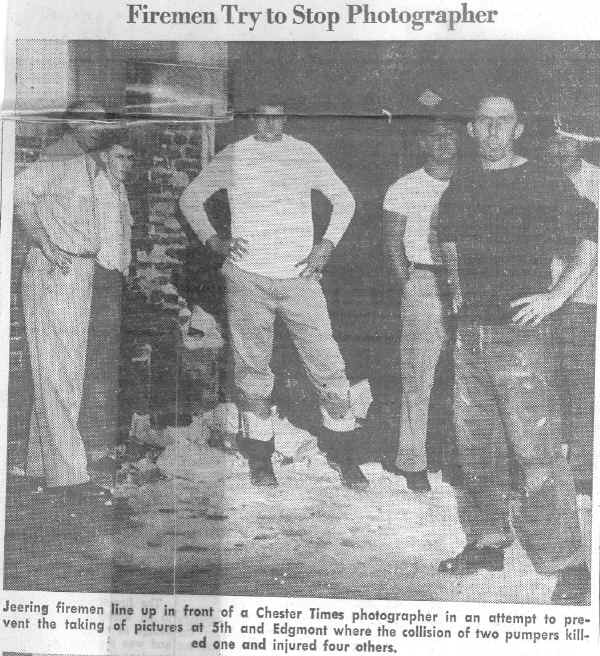 Fire Chief John Calhoun and Second Assistant H. Lewis Harper attempted to prevent the taking of photographs at 5th and Edgmont where two pumpers collided today, killing one fireman and injuring four others.
Calhoun threatened to have Chester Times photographer Doris K. Koveal arrested and Harper warned the "He'll (Calhoun) take your camera away from you.
The pictures were taken.
Witnesses to the incident also said that firemen drove a Franklin Fire Co. Ambulance in front of the damaged engines to try to stop the picture-taking. They said firemen formed a line in front of Mrs. Koveal, mother of a 2 1/2-year-old son, and jeered her, while others covered the engines with tarpaulins.
Mrs. Koveal, ordered to the scene from her home by superiors was met by Calhoun, who said, "I don't want any pictures taken."
When the chief was asked for the reason, he offered none and said, "I'm boss here and I don't want any pictures taken."
The arrest threat and Harper's statement followed.
Mrs. Koveal telephoned her managing editor and she was instructed to return and make further efforts to take pictures. ON her return to the scene, new attempts were made to stop her from taking photographs.
A policeman at the scene did not intervene.