What's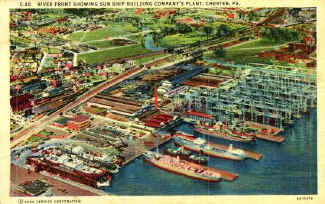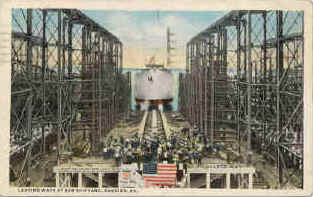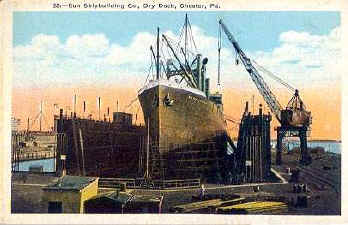 ---
Presidents:

Mr. J. Howard Pew
Mr. J. N. Pew, Jr.

Mr. John G. Pew

Photo from August 10, 1940 Annual Employees' Picnic Program book, courtesy of Florence (Smalley) Knott

Mr. John G. Pew (1946)

---

Vice-Presidents:


Robert Haig

Photo from August 10, 1940 Annual Employees' Picnic Program book, courtesy of Florence (Smalley) Knott

Robert Haig, Vice President

R. L. Burke

Photo from August 10, 1940 Annual Employees' Picnic Program book, courtesy of Florence (Smalley) Knott

R. L. Burke, Vice President

Alton A. Norton

Photo from the May 1956 issue of "Our Yard" Magazine, courtesy of Irene Norton, widow of Alton A. Norton

Alton A. Norton

"Mr. Alton A. Norton retired from the board of directors and as vice-president of the Sun Shipyard on April 24, 1956. He had requested the move for reasons of ill health.

Mr. Norton was a fisherman and oiler on the Great Lakes before attending Webb Institute of Naval Architecture. Upon graduation he entered the drawing office of Harlan & Hollingsworth. Several months later in 1916 he joined Sun Ship.

Mr. Norton became superintendent of hull construction in 1926, and in 1950, vice-president in charge of operations. He is presently in West Jonesport, ME, where his cottage has been a center of interest for a number of years."

- "Our Yard" Magazine, May 1956


Paul E. Atkinson

Photo from the May 1956 issue of "Our Yard" Magazine, courtesy of Irene Norton

Paul E. Atkinson

"At the April 24, 1956 stockholders and board of directors meeting, Paul E. Atkinson was elected a director and vice president of the Sun Shipbuilding and Dry Dock Co. in Chester, Pa.

Mr. Atkinson was born in Mineola, Long Island, NY, June 21, 1921, and attended public grade and high schools in Hempstead, Long Island, where the family had moved. After one year at Hofstra College, he transferred to Webb Institute of Naval Architecture. During two summer vacations he worked as a shipfitters helper and welder in the Sun shipyard.

After graduation in 1942, Mr. Atkinson entered the production department and became a cleaner boss until 1944. For the next six years, he was in charge of the iron work at the dry docks as assistant to the hull superintendent.

In 1950 Mr. Atkinson became assistant director of operations. He is a member of the Society of Naval Architects and Marine Engineers, and resides in Springfield, PA with his wife and four children."

- "Our Yard" Magazine, May 1956

---

Secretary-Treasurers:


William Craemer

Photo from August 10, 1940 Annual Employees' Picnic Program book, courtesy of Florence (Smalley) Knott

William Craemer, Secretary-Treasurer

---

Other Employees
Please click here for a more complete listing of known Sun Ship employees.

Ambrosino, Joseph Paul, Sr. - 13

"My Dad ran away from home when he was only 13 or 14 years old and was hired by the Sun Shipyard. He worked himself up to a draftsmen in the Hull drafting department with a very limited education. When he retired around 1973 or 1974 he had the longest service recorded at the Chester Ship Yard. His name is Joseph Paul Ambrosino Sr. Mrs. Ambrosino was honored at a dedication of a new dry dock ceremony in 1975 for his record length of service when she smashed a bottle of champagne against this new craft at the time."

Ashby, Edward J. Sr. - 15

"I believe he did electrical work at Sun. His brother, Joseph Ashby, worked at Baldwin."

Banas, Michael

"My grandfather, Michael Banas came to the USA from Poland in the early 1900's. He told me that he worked at Sun Ship for a while before moving to Michigan." - 5

Casciato, Camillo "Kelly" A. - 16

Clark, Helen - 11

"My mother went to work at the ship yard during the 2nd World War. I still have a bracelet that was made by a worker, it means a lot to me because she wore it all the time. Her name was Helen Clark."

Crist, Walt "Porky" (Chipper/Riveter, 1946-1971, died on the job) - 1

Dougherty, Thomas (c. 1927-1952-?), shop clerk

Esrey, David Reese "Pete" Sr. - 10

"The first 50 year pin in SunShip history went to my great-grandfather, David Reese (Pete) Esrey, Sr. who had worked in the Wetherill Plant prior to its being purchased by the Sun company in 1916. When he retired in January 1940, great-grandfather was 85 years old and had worked for SunShip for 64 years. Sadly, for our family, he became ill & died 5 days after retiring (having walked home in the rain that last day). We lived on Remington St. in Sun Village then and I remember looking over the stair railing at "grandfather sleeping in his couch." His sons, David "Reese" Jr., Horace & Fred all worked at the Shipyard as did at least one grandson & several granddaughters. One granddaughter, Josephine, was a welder during World War II, the first woman to work in the Yard on the third shift.. At least one great-grandson & one great-grandson-in-law also worked there in the shipyards later years.

You can read about "Pete," Horace & Reese in back issues of the OUR YARD magazine."

Esrey, David "Reese" Jr. - 10

Esrey, Fred - 10

Esrey, Horace - 10

Esrey, Josephine - 10

Filbert, Charles (Charlie) - 19

Filbert, Ervin H. - 19

"My Dad, Ervin H. Filbert, worked at Sun Ship for 46 years, retiring in the 1970's. He was a foreman in the Welding Dept. My Uncle, Charles (Charlie) Filbert, was employed at Sun Ship for years as well. I can remember going with my Dad to watch launches. Also, waiting with my Mom in our car for the whistle to go off at the end of my Dad's shift. I use to love watching all the men running out of Sun Ship."

Flamer, John - 17

"My uncle John Flamer worked for Sun Ship during the war years. He was in the supply/procurement area for most of his time there. He used crutches to get around and later he was restricted to a wheel chair. My uncle was an african/american and his wife became the first (and only one at that time) black woman to christen a ship there."

Gibbs, J. Blair (1941-1980) - 7

Haley, John J.

My grandfather, John J. Haley, now 95 years old, worked at the Sun Ship
yard during World War II. I have been interviewing him about his life
and he had this recollection of his time at Sun Ship:

"I went to Sun Ship and I went in and the guy that was doing the hiring said, "You won't like to be out in the ship ways since you came out of a warm mill, so I will give you a job in the shop." I said okay, and they put me in the plate shop and that wasn't much warmer that it was outside. I worked night work for the longest time. First I helped on the planer. They would bring in big plates and put them on this big machine and the operator would plane the edge of the plate with a bevel so when they took them out and put them together and weld them they would fit together. The plates would be in a big pile and there was this electric crane that worked by hand and you pulled the thing and it would pick up the plate and swing it around into this machine. They had these clamps to clamp it fast that were made out of pieces of old scrap metal like a "T" and then you had a wedge that you had to tighten it and fasten it all along so it would be solid. This operator he would run it and then I would take it out and put it in the pile."

"In the winter, I used to wear insulated underwear and a big coat. We used to get coke from the blacksmith shop across the building and there was a coke fire and we used to put it in a barrel that we had with holes punched in it up on blocks and we would have a fire in it. So while the operator was running the thing, I was over there keeping warm all night by this coke fire. When I come home I would stink like the devil from this coke and smoke." - 18

Harden, Wesley Rennie, Sr. - 3

Howland, Jack - 14

68-Dept. 3rd Class Rigger -1975-Nights-Yellow Hard Hat orange cross
81-Department-Laborer and Temp. supervisor -1977-1979-Nights-Green Hard Hat silver Cross
87-Department-Safety Inspector -1979-1981-Nights-White Hard Hat with Green
49-Department-Chemist/Industrial Hygienist -Days-Black Hard Hat White Trim.

I miss the old place to this day.

Jaylik, Stanley, stage builder, 2532 W. 7th St. (1920-at least 1950)

Jenkins, Charles E. "Shorty", Sr. - 9

"Some people may remember my father, Charles E. Jenkins, Sr., known as "Shorty." He wrote news for the Sun Ship Our Yard. He wrote under the name of Pappy Jenkins for the 59 Department. He passed away in 1967."

June, Carl - 8

June, Fred - 8

June, Joseph - 8

June, Ludwig (Wiggy) - 8

June, William - 8

"My father, William June, worked there on and off from 1942 - till his retirement in 1978. I say on and off because whenever things were slow at Sun they would lay off, and dad would go find another welding job, but he always returned to Sun when they called him. Also working with him were 4 of his brothers, Joseph June, Ludwig (Wiggy) June, Fred June, Carl June. They worked there from around 42 also some were called into the service, and for some their numbers didn't come up. They all seemed to love the place, and I can remember my dad taking me down to see some of the ships he worked on. They were very proud to be building the ships that were used in the war."

Krasowski, Ludwig A., 1963-1975 (Father of Pete Krasowski)

Krasowski, Pete, 1965-1967

Lee, Harry S. - 6

Harry and his wife Louise also operated Lee's Confectionery Store at 14th & Edgmont Ave.

Ramont, Arthur T. Sr., supervisor in the hulls during WWII - 2

Savage, Bill (d. 1947; also operated Savage's Grocery Store on Parker St. between 3rd & 5th) - 4

Sarnocinski, John (lefty) was Forman in the hull shop

John worked there from 1935 to when the yard closed and then worked for the new owners. John resided in Buckman Village. (Uncle of Pete Krasowski)

Saunders, Joseph, leader, 1302 Hancock St. (1920-at least 1950)

Smith, William (Wetherill plant superintendent) (1925 - at least 1950)

Strickland, Leroy (c. 1927-1952)

Tonnies, Robert - 12

"My Grandfather- Robert Tonnies was a foreman at Sun in the 1920's. Two of my Great Uncles also worked there at the same time- Herman & George Uhl. They lived on Glendale Terrace in Chester. Wish I could contribute something interesting about Sun, but I never knew my Grandfather & Uncles died long ago."

Uhl, George - 12

Uhl, Herman - 12

---

Company History:

The company was founded in 1916.

Also in 1916 Sun purchased the Wetherill Company for the purpose of building tools for their operation.

The first ship built at Sun Ship, the "S.S. Chester Sun", was launched October 30, 1917.

During World War II, the normal 8 shipbuilding ways were increased to 28!

Sun's last ship, "Westward Venture", was launched February 15, 1977.

---

The following update is based on an April 13, 2001 report by Dan Hardy, Philadelphia Inquirer Suburban Staff:

Following the demise of Sun Shipbuilding & Dry Dock Company, this 53-acre property was taken over by its successor, Pennsylvania Shipbuilding Company. In 1994 it was purchased by Metro Machine of Pennsylvania, Inc. to repair and dismantle military ships. However, in 1998 the Navy stipulated that all such work was to be done at the company's Philadelphia facilities. In April 2001 the state of Pennsylvania agreed to take possession of the property for unpaid loans totaling about 13.5 million dollars. The property will probably be turned over to the Delaware County Redevelopment Authority or the county Industrial Development Authority for resale. Several businesses, including neighboring Kimberly Clark, have expressed an interest in the property located along the newly rebuilt Route 291 (Industrial Highway).

---

Recollections:
2/12/2004:

"I'm an author in the process of writing a book contracted by Random House about Operation Pedestal, a British convoy to Malta in August 1942 that, with its success, marked the turning point of the war, according to Churchill.

The convoy actually suffered devastating losses, but the most important ship in the convoy, the SS Ohio, a tanker built by Sun Shipbuilding Co., got through.

I would like to locate records of the building of the Ohio (I've seen pertinent data taken from other research sources, so those records must be available). But better than that, I would dearly love to find and interview anyone who might specifically remember the building of the Ohio, in 1939-40.

It was the biggest and fastest tanker made at the time, I believe--certainly England had nothing like it. It was sold to the Texas Oil Co., but within a month of its delivery had been donated to Churchill by Roosevelt as a part of the Lend-Lease program in the war effort.

Today Ohio lies in a watery grave off Malta, where it was deliberately sunk after its precious cargo of oil was delivered to Malta and kept the Allied subs steaming and Spitfires flying--which led to the halt of Rommel's advance across North Africa. It had been damaged so badly during its mission that it was not repairable. It was a ship that would not quit and could not be sunk, and the shipbuilders at Sun Shipbuilding Co. should be very proud of their contribution, and I'm sure they were. Chester newspapers in August of 1942 probably reported the Ohio's heroic delivery of fuel.

I'm hoping you might have some information about how I might best go about tracking down those shipbuilders who worked (maybe even designed) the Ohio, especially if they knew its valiant purpose at the time."

Sam Moses

---

These recollections from Gene Zacniewski, zac@dfn.com who grew up in the neighborhood of Sun Ship:

"In its hay day the Sun Parking Lot could not hold all the cars. The overflow lined up along the PA Railroad track wall along the length of 6th Street from Hinkson to Morton Ave. and everywhere else they could find to park."

also

"The Sun Overflow was all thru the fifties. In 1969 they built a ship for Howard Hughes named "The Glomar Explorer" specifically built to raise a sunken soviet nuclear sub in the Pacific."

---

From Otto Greenleaf, ot60@hotmail.com

"I remembered that the Chester City Band played concerts in afternoon at Sun Ship during the II World War years, when I lived at 8th and Crosby St."



Many thanks to the following for contributing information for this page:

1 - Daughter, Ann McGough, amcgough3@home.com

2 - Fred Ramont, son, fredram@pacbell.net

3 - Stacy Harden Baran, great granddaughter, stacyesq@yahoo.com

4 - Pat (Savage) Carr-Muffley, daughter, Patmdbiller@cs.com

5 - Larry Banas, grandson, lbanas@peoplepc.com

6 - Ginny Lee Cook, daughter, Ginnycook1@aol.com

7 - J. Blair Gibbs for this info via John P Kennedy, NP5thward@aol.com

8 - Ruthann Parre, r.parre@worldnet.att.net, daughter of William June

9 - Madeline A. Jenkins-Steiner, maddyjs@juno.com, daughter of Charles E. Jenkins, Sr.

10 - Helena Esrey Reed Ashwell, Ashwell2000@aol.com, great granddaughter of David Reese "Pete" Esrey, Sr.

11 - Ann Clark, Pudgyie@aol.com

12 - Bob Tonnies, grandson of Robert Tonnies, Rtonnies@aol.com

13 - Colonel USArmy (Retired) Richard R. Ambrosino, Ambro06@cs.com

14 - Jack Howland, JHowlan@entergy.com

15 - James Edward David Ashby, grandson, jeda_88@hotmail.com

16 - Tony Casciato, son, tony.four@verizon.net

17 - Jim Locke, jimlocke@theriver.com

19 - Ellen Filbert, Lansdowne, PA
---