Home > Businesses > Manufacturing Plants > Robert Wetherill & Company
Old Chester, PA: Robert Wetherill & Company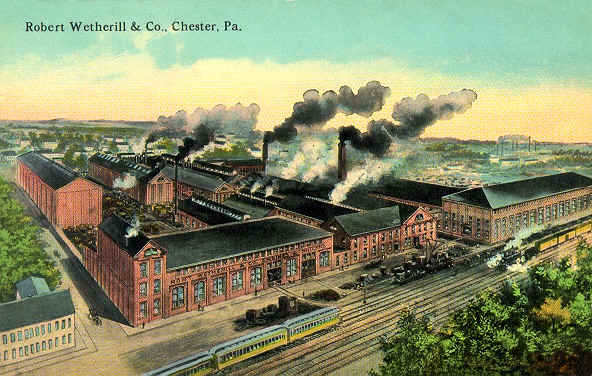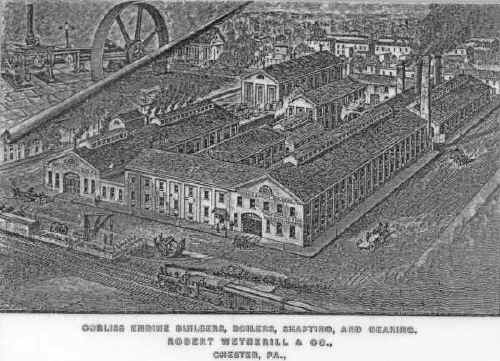 Black & White image above courtesy of Dave Komarnicki, Chester, PA
6th & Upland St.
Chester, PA
Presidents | Other Employees | Company History | Recollections
Wetherill's Corliss Steam Engine
---
Presidents:
Founder: Robert Wetherill, Sr. [Obituary]

Richard Wetherill [Biography]

---

Other Employees

---

Company History:
The company was founded by Robert Wetherill, Sr., in 1871 as "Wetherill, Keesey and Whildey." The following year Robert formed a partnership with his brother Richard Wetherill and the name of the firm was changed to Robert Wetherill & Co.

Wetherill manufactured the Corliss steam engine.

The Wetherill Company was acquired by Sun Shipbuilding & Dry Dock Company in 1916.

See Robert Wetherill, Sr.'s obituary for more information about the history of the company.

Fire destroys Wetherill Building

This report from Larry Hunter...

"The old Wetherill Building located at 6th & Upland streets burned out and down on Tuesday April 2, 2002. By the looks of the building they will probably have to demolish what is left. It was a horrendous out of control fire.

It is part of the old shipyard. It sits between Upland and Potter Sts. on 6th street. It takes up just about the whole block, to 7th Street.

The call came in around 11:00 - 11:30 AM. As soon as the dispatcher finished the dispatch, and the first Chester officer answered, the dispatcher told him the police were on location with the building fully involved in fire and smoke.

About 10 minutes later the Battalion Chief of Chester told dispatch to tap out 2nd alarm, that is when our Company [Garden City] and other surrounding Companies respond, along with the off duty Chester Firemen."

---

Wetherill's Corliss Steam Engine:
"There is a fine example of Robert Wetherill Company's product preserved in operational condition.

It is at Rough and Tumble Engineers' Historical Association at Kinzers, Lancaster County. This is located on US 30, west of the intersection of PA 41 and US 30.

The engine is a horizontal Corliss steam, about 8" x 18" single cylinder, with an approximately 8' diameter wheel. It has the classic and original " Crab Claw " valve linkage.

The engine is operated with steam in the Stationary Steam Display Building three times per year, spring, summer and fall. I have spent many happy hours maintaining, operating and interpreting for visitors in our display."

Visit R&T at http://www.roughandtumble.org

- Jim Conte

Recollections:
1 - Thanks to
If you have any information and or pictures that you would like to contribute about Wetherill, please forward it to john@oldchesterpa.com
---
© 2001, 2002 John A. Bullock III.

This page last updated 10/18/05