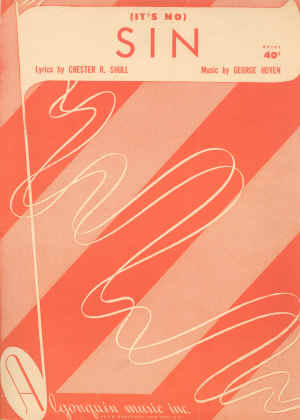 Chester Refinery Worker and Accordionist Hit Musical Jackpot with It's No Sin'
by Theo Wilson
Of The Bulletin Staff (1951)
A refinery worker and an accordionist who runs a little music store in Chester have hit a musical jackpot.
Starting January 1, Chester (Chick) Shull and George Hoven [biography, obituary] will start receiving royalties from a song they put together which already has sold over a million records, more than 800,000 pieces of sheet music, and has been performed by 22 recording artists.
The song is called "It's No Sin." They expect it to net them between $30,000 and $70,000 each.
Every disc jockey, every teenager, everybody who's exposed to popular music knows it's one of the big hits.
The chorus starts with "Take away the breath of flowers, it would surely be a sin..."
Shull, of 626 Jeffrey st., Chester, the refinery worker who wrote these lyrics, told yesterday how he got the idea for the words.
Soldier Says Goodbye
"I was at 30th Street Station, going to Chester from Philadelphia," he said, "when I saw this serviceman standing on the platform with a young girl. She was holding a bouquet of flowers and they were just looking at each other. You know how you can sense when somebody is saying good-bye... well, I knew the soldier was leaving the girl. I started writing it down, and the first words I wrote were 'Take away the breath of flowers.'"
The music had already been written by Hoven, who teaches accordion, and sells Polish records and musical instruments at his shop and home at 2505 W. 3d, Chester.
This local song-writing team never had a hit before, although they've collaborated on songs in the 12 years they've known each other.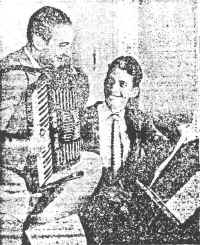 They met at the South Chester Tube Co. Shull liked to write lyrics, Hoven enjoyed composing melodies, so it was a natural that they should team up.
The friendship continued when Shull went to the Marcus Hook Refinery of Sun Oil Co., as a [?] on the stills, eight years ago, and Hoven opened his music store.
A Heart-Breaking Business
Getting a song published is a heart-breaking business, and the team had a long time to wait before their song got places. They asked "The Four Aces" to record the "Sin" song. Then they played it for Jimmy Lynn, a Chester disc jockey, who liked it and plugged it every day on his program.
Finally the song was published in New York, picked up by a Philadelphia record company, and the tune was on its way. It's been recorded by every big name, with Eddie Howard's records leading the sales.
"The day before yesterday," Shull said, "our new song, a waltz called 'Let Me Dream,' was accepted for recording by either Patti Page or Eddie Howard. It's a kind of a 'good night' song."
The men don't get their royalties until January 1, but have been getting advances. Besides the royalties, they'll get performance fees.
Both are married. Shull, who earns an average of $100 a week at the refinery, has three sons, Calvin, 13; Michael, 11, and Tommy, nine. Hoven, whose ambition is to publish accordion music has a daughter, Marianne. He has composed 42 pieces [?] accordion.
---
"It's No Sin" CD's as of 2005:
The Four Aces
Eddy Howard (The 22 Golden Hits Of)
The Duprees (The Best Of)
1951 Hit Parade
Norman Petty Trio
Coleman Hawkins (In The 50's - Body & Soul Revisited)
Ralph Flanagan (And His Orchestra)
The Crests & The Duprees (Sixteen Candles)
Slim Whitman (22 Legendary Hits)
Golden Greats
Those Wonderful Yrs.
Remembering The Fifties
The Four Aces (Greatest Hits)
Gogi Grant (City Girl in the Country)
Sammy Kaye Collection
Bobby Vinton
Hits of 1951