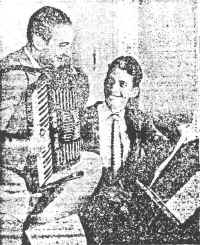 George Hoven (left) and Chester Shull work out on a new melody. Their song, "Sin," is one of the favorites on the hit parade.
1951 Photograph from the Philadelphia Bulletin courtesy of
George Hoven's daughter.
George Hoven


(A biographical sketch from nfo.net, prepared with the help of and contributed by his daughter.)
b. August 31, 1913, Marcus Hook, PA, USA, d. June 18, 1974, Chester, PA USA
Instruments: Piano-Accordion; Composer
Overview
George Hoven was a Music Store owner, composer and wonderful teacher of the Piano-Accordion. He not only sold sheet music, but he was also a prolific composer of a great many musical works reflecting his Polish background including Polkas, Obereks, Waltzes and such. But curiously, he is best remembered today for his 'Pop' tune "It's No Sin", which was a huge success for The Four Aces vocal group, the Eddy Howard band, and a great many other orchestras and singers. It was Number 1 on the National Charts in 1951, and stayed No. 1 for many weeks. The lyric was written by his good friend Chester R. Shull.
Hoven was born in Marcus Hook area (PA) and lived his life in Chester, PA. Prior to the success of his song "It's No Sin", he had composed some 150 Polkas, Marches, Obereks, and Waltzes. Up until 1953, when he retired from the Retail music business, he had sold music and instruments at his store, and also gave Piano-Accordion lessons. He spent the remainder of his life composing.
Hoven had met Chester R. "Chick" Shull when they both worked for the Old South Chester Tube Co., and they continued working together even when, in 1943, Shull went to work for the Sun Oil Co. About then, Hoven also opened his own Music shop (2505 W. 3rd St. - Chester, PA) in a two-story storefront building. Hoven lived on the upper floor of the shop, living and working there for many years (until his demise).
In a 1951 interview, Hoven told how hearing Bing Crosby's rendition of "Autumn Leaves" inspired him to write "It's No Sin". Hoven was driving down 9th Street when he heard Bing singing "Autumn Leaves", and he rushed home, - writing the music to "It's No Sin" in just a half-hour. He telephoned Shull, and played the song perhaps 25 times. Three weeks later, Shull had completed the lyric. Shull has said that his lyric was inspired when he saw a young girl saying goodbye to a Soldier at Philadelphia's 30th Street Train Station. When the pair wrote the tune, Hoven was just age 38 and Chester R. "Chick" Shull was only 34 years old.
At the time, a little known vocal group called The Four Aces were playing at The Ukrainian American National Home at 4th and Ward Streets, in Chester, PA. Hoven and Shull auditioned their song for the group. With the help of The Four Aces, as well as the local Disc Jockey (Jimmy Lynn WVCH-Chester), the tune began to take off and subsequently was recorded by most all popular singers. It was this tune that propelled The Four Aces to International fame. Later, Al Alberts, founder and leader of The Four Aces would tell reporters how the group had started in a Prospect Park Milk Bar (in Delaware County, PA) singing for $28 a night, and because of this tune, wound up playing in a Las Vegas Hotel for $10,000 dollars a night. Hoven and Shull had pestered them so that they finally worked up an arrangement just to get the two 'off their ears'.
Tragically, George Hoven died as the result of a fire at his home. The fire apparently had started in the first floor kitchen of his two story storefront home. Hoven was sleeping in the rear 2nd floor bedroom, directly above the kitchen, and must have succumbed to the intense smoke, heat, and flames. Shull retired from Sun Oil Co., in 1960. George Hoven is a member of the Songwriter's Hall of Fame.
[Obituary]