HITCHING POST TO PARKING METER
Tales of Transportation in Delaware County Since the Horses Hey-Day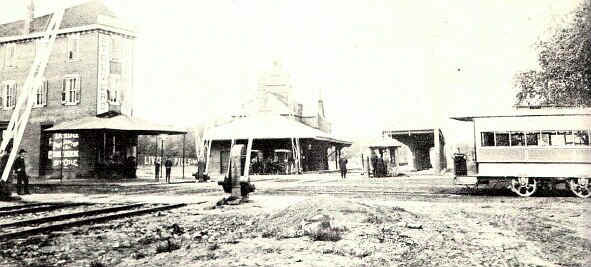 About 1890, when the B. & O. station at Twelfth and Edgmont in Chester was still new, folks made the trip from there to Market Square by horse-car (just starting off at right). Across the tracks behind that fence was one of the baseball parks.

Chester A. Arthur sat in the White House the day the first street car traversed the streets of Chester. Governor Hoyt had granted a charter to the Chester Street Railway Company in 1882 and on the first of February 1883 the first car made the trip on Third Street from Market Street to Clayton. Good old Dobbin was the motive power and after the vehicle had been reversed on the turn table the return trip was made "without mishap."
It was seven years later that the Union Railway Company was chartered to operate on Second Street from Edgmont Ave. to Highland. In 1892 this company electrified its lines and the faithful steeds pulled the cars for the last time in December of that year. This was the second company to introduce electric power and the innovation brought patronage warranting extension to Media, Marcus Hook and Upland.
Subsequently the Southern Pennsylvania Traction Company took over the lines and extended them to Darby and Wilmington.
In 1925 the Southern Pennsylvania Bus Company began to operate buses which proved their superiority to the point that gradually this type of vehicle began to replace the trolley cars. Finally in December, 1934 this transformation was completed and buses now cover the entire area.
Southern Pennsylvania Bus Company placed ten new buses in service on March 15, and ten more are to be delivered in July, which will bring the total fleet of modern buses operated by this company up to 104, half of which are not over three years old.
The present tire shortage and looming gasoline restriction for private vehicles have caused a great increase in the volume of passengers handled by bus lines to and from the business sections and industrial plants, and through the residential and rural areas of the county.
Now that the Delaware River industries are growing so fast, hiring hundreds of new employees each month, bus travel will continue to gain in importance. Not only will the tire and fuel shortage cause fewer private cars to be used for routine travel, but the traffic problem in the industrial area will inevitably increase.. The use of public conveyances therefore will be a two-fold saving. Delaware Countians are fortunate that Southern Pennsylvania and other transportation services have looked ahead and will be prepared to meet the emergency so well.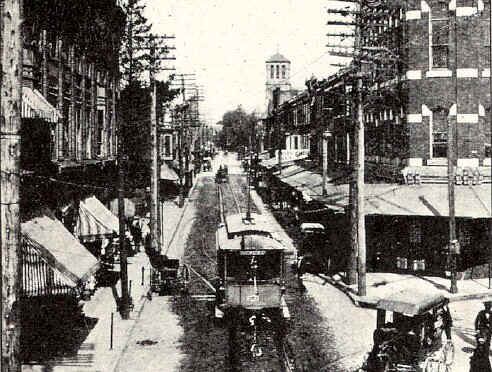 Ten years later, by 1900, most of the horse-cars were replaced by electric trolleys, but hitching posts were still a necessity and buggies the genteel mode of travel.


The last "Toonerville" on the Darby-Media line ran in 1938. (Above right) Larger trolleys like this served Chester for 30 years.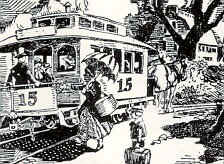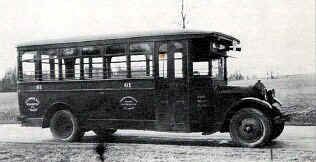 Above left) Horse-cars were a common sight during the Eighties, yet an excursion to Market on one was a great adventure for the kiddies. (Above right) About ten years ago the Southern Pennsylvania buses were all of the type shown above, and had almost entirely replaced trolleys in the County except for high-speed lines radiating from Upper Darby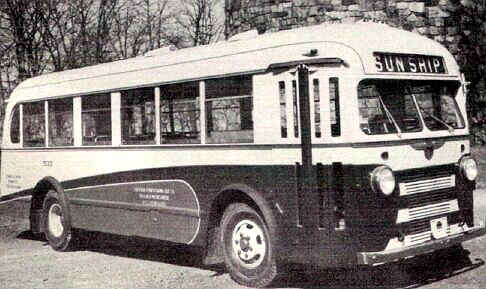 Now its buses are streamlined, quieter, safer, more comfortable. Doors are designed for simultaneous entry and exit. By July there will be over 100 of these serving Delaware County's commuters.

When old Dobbin finally retired electric power ran the trolleys. Then as the population grew and gasoline vehicles began to overtake trolleys in the city streets and replace carriages in the country, motor buses took over for cross-country routes. In Chester trolleys were enlarged and improved for city use, but were finally replaced also by buses. Streamlined high-speed trolleys, some of the trackless type such as are now used in Philadelphia and Wilmington, were not thought practicable for Chester's narrow and twisting streets.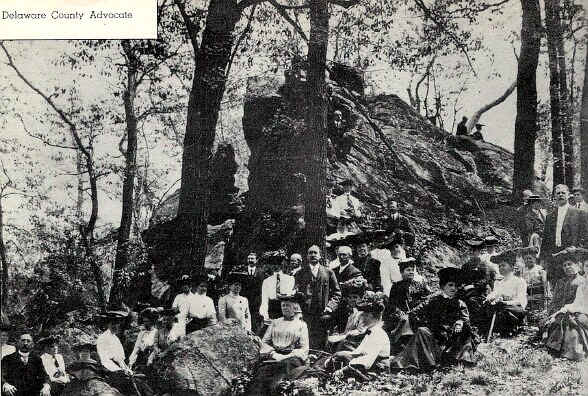 Castle Rock on the West Chester Pike was a favorite picnic place just after 1900. This is said to be a Geographical Society outing, date unknown.

Straw-rides and sleighing parties and Sunday excursions by carriage or trolley for an all-day picnic in the country were treats to remember in the old days. A favorite trip for Delaware Countians or even "city folks" was an excursion to Castle Rock Park, where legend said Sandy Flash had his main hide-out. Every self-respecting trolley line had its amusement park somewhere along the route. Castle Rock was the ace-in-the-hole of the Philadelphia to West Chester line in the days when fields lay between 40th and 63rd Streets, where the terminal was then located. Here one changed cars, and lurched along the West Chester highway, muddy or dusty according to weather, with toll-gates every few miles.

(Below) One of the open trolleys so delightful in summer of yester-year, except when sudden thunderstorms arose or swarm of insects came to call.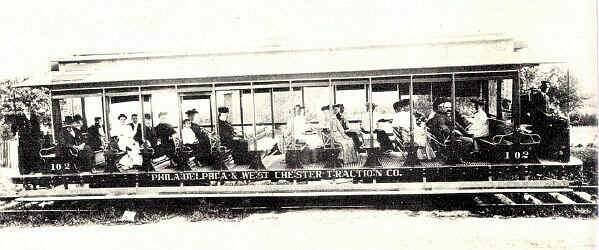 Above) When the stone trolley terminal was built at 69th Street it was still surrounded by fields, with sheep and cows grazing nearby. (Above Right) The same sight as it is today - not a cow in sight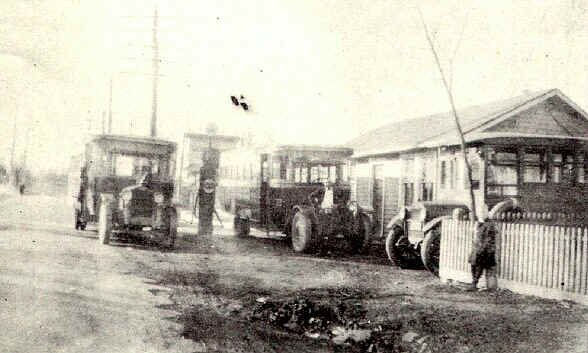 The old Media-Concordville buses parked at the Concordville terminal on Baltimore Pike, now a gas and groceries emporium.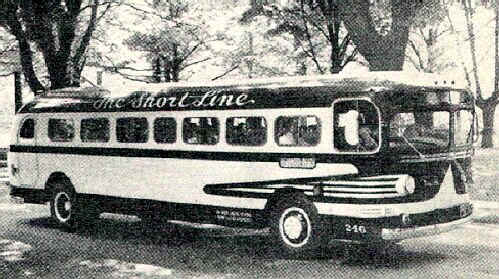 (Above) Now the same company runs snappy jobs like this.

Serving another section of the county is The Short Line, now just old enough to vote. As at present constituted, it is a combination of three local lines - the Chester Valley, the former Stark route to Glen Riddle and Lenni, and a line which originally centered in Concordville with buses running from Media to Kennett Square and from Chester to Concordville.
The Chester Valley System was founded by P. H. Corcoran and George J. Moses, now postmaster of West Chester, originally running from West Chester to Wilmington. Their line intersected the Baltimore Pike at Painter's Cross Roads which was then a lonely country cross roads.
Squire McConnell, James Mahan, Charles Greene and others in the Concord area began their service to Media, Kennett and Chester shortly after the Chester Valley began service. Their terminal near the old Concordville Hotel is now an emporium for groceries, gasoline and ice, with a nocturnal card game and tall-story session by the veteran operators of the line that sold out to Chester Valley.
Simultaneously James Stark introduced bus service to a loop that extends from Village Green to Rockdale, Lenni, Crozerville, Aston Mills, Fishers Corner and back to Village Green. The route begins in Chester and at times the buses have taken the left fork at Village Green and again the right fork, a picturesque trip in either direction.
This line was lately controlled by the Vanderbilt interests until Henry P. Corcoran and James J. Penrose assumed control recently. It is enjoying the same expansion that all local companies are now adding equipment to meet. They now have ten streamlined buses in this area, exceptionally striking in appearance. Their service from Philadelphia direct to the beach at Rehoboth, Del., passes through Chester twice daily, making its main stops at the Bus Center on 9th Street west of Welsh. Local service runs from Sun Ship in Chester via Concord Road to up-county points and West Chester.

As we complete this rapid once-over of transportation facilities through and within Delaware County since the horseless carriage came into its own, we realize that roads themselves have simultaneously undergone a similar change.
Roads were seldom planned. Like Topsy they just grew, on the path of least resistance to the man on Dobbin or Shank's Mare. The first paving merely covered the surface of twisting and hilly wagon tracks. Gradually leveling and banking and straightening were attempted. Now the County's roads are in fairly good shape, and further improvements, many long planned, are scheduled for early attention.
A few highway hazards still remain, though one of the worst, the bridge at Boothwyn (above), was finally rebuilt last fall.

From The Delaware County Advocate - April 1942
Thanks to Harvey S. Martin