Old
CHESTER
in Delaware County, PA
OldChesterPa.com: Obituary
On the web since March 2000!
Always check our "What's New" page
Have you signed our Guest Book at "The Newsstand"?


A project of the National Heritage Foundation
What is this Foundation?
I'd like to make a donation to help support this website!
Would you like to sponsor this page?
Contacting me: - Update
I have temporarily cleared a small amount of space in my email box. However, spam continues to be a problem. To be sure you get through the filters, be sure to include the name of our city somewhere either in the subject or the body of your email.
You can contact me by phone. Follow this link for phone number. -John
Sponsor
"Today in Chester's History" on "The Newsstand"
(Only 5.00 per day)
SEARCH the website - Thousands of pages of Chester History!
What's

Photo: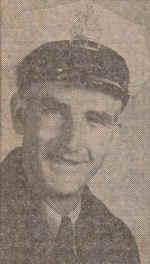 Last Name: William
First Name: Connors
Middle Name: Raymond
Maiden Name:
Date of Death: September 19, 1972
Newspaper: Daily Times
Date of Newspaper: September 20, 1972
Contributor: Bernadette Connors
Text of Obituary:

William R. Connors, police sergeant, dies

Traffic Sgt. William R. Connors, of the Chester Police Department, died at 9:20 Tuesday Night at Crozer Chester Medical Center, Upland.

Sgt. Connors, 50, was admitted to the hospital Sept. 10 and underwent surgery.

A native of Chester, Sgt. Connors traveled about the world while a merchant seaman. He spent five years on the high seas in World War II as a Navel reservist assigned to merchant ships delivering war supplies.

He joined the city police force in 1950 and was promoted to the detective bureau in 1956. Sgt. Connors requested a return to uniform police duties and was assigned to the traffic bureau. He was promoted to sergeant in 1967.

In 1966, he and retired Detective Capt, James F. Thomas organized a fund-raising campaign to assist Robert R. Hime, a Chester youth who was wounded seriously in Vietnam. Hime, an enlisted man in the Marine Corps, stepped on a land mine near Da Nang and lost both legs.

He was recuperating in the Philadelphia Naval Hospital when Connors heard about him. The sergeant's brother, John J. Connors, was killed in combat in France in 1944. The fund provided Hime with more than $3900. Just prior to Christmas in 1966.

Sgt. Connors received a 20-year service award in December of 1970 from the Chester Kiwanis Club.

Sgt. Connors was on duty at 9th and Penn Sts. on September 19, 1971 when Gov. Milton J. Shapp visited the city to tour flood damaged areas.

The governor approached the sergeant and inquired about the incident that claimed the lives of several persons when a rescue boat upset.

Sgt. Connors' daughter, Jean Theresa, 20, was killed and his son, Francis, was injured seriously in November 1968 in a traffic accident. They were crossing 22nd St. and Providence Ave., near their home when struck by a car. Miss Connors was attending Delaware County at the time.

In addition to his widow, the former Irene Frattarola, and his son, Francis, Sgt. Connors is survived by another son, William R. Jr. and two daughters, Mary Lou, and Bernadette.
Notes: Submitted by his daughter, Bernadette