Old
CHESTER
in Delaware County, PA
OldChesterPa.com: Obituary
On the web since March 2000!
Always check our "What's New" page
Have you signed our Guest Book at "The Newsstand"?


A project of the National Heritage Foundation
What is this Foundation?
I'd like to make a donation to help support this website!
Would you like to sponsor this page?
Contacting me: - Update
I have temporarily cleared a small amount of space in my email box. However, spam continues to be a problem. To be sure you get through the filters, be sure to include the name of our city somewhere either in the subject or the body of your email.
You can contact me by phone. Follow this link for phone number. -John
Sponsor
"Today in Chester's History" on "The Newsstand"
(Only 5.00 per day)
SEARCH the website - Thousands of pages of Chester History!
What's

Photo: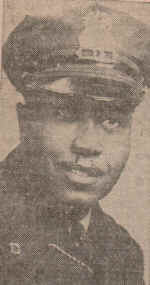 Last Name: Covert
First Name: Nathaniel
Middle Name: Lee
Maiden Name:
Date of Death: March 21, 1990
Newspaper: Delaware County (PA) Daily Times
Date of Newspaper: March 23, 1990
Contributor: Florence E O'Bryan
Text of Obituary: Nathaniel Lee Covert, a retired Chester police detective, died Wednesday at Sacred Heart Medical Center after a lengthy illness.

Born in Orangeburg, S.C., he spent most of his life in Chester.

Mr. Covert was an Army veteran of World War II.

He became a Chester police officer more than 20 years ago, rising to the rank of detective before retiring in 1975.

He was a member of the Delaware County Black Policemen's Association, the Fraternal Order of Police William Penn Lodge No. 19, and the 8-1 Republican Club.

He also was a member of the John A. Watts Lodge 224 of the Order of the Elks and the Stockton-Dean Veterans of Foreign Wars Post 3425.

He is survived by his wife, Bernice Peterson Covert; a son, Nathaniel E. Covert of Chester; a daughter, Anita Louise of Brooklyn, N.Y.; two sisters, Susie Seawright of Chester and Oletha Randolph of Chester; and a granddaughter.

The funeral will be 7 p.m. Sunday at Providence Baptist Church, Second and Pennell streets, Chester, with viewing from 5 to 7 p.m.

Burial will be 10 a.m. Monday in Greenlawn Cemetery, Chester Township.

Arrangements made by Catherine B. Laws Funeral Home, Chester.
Notes: Born: May 20, 1920