What's

Photo: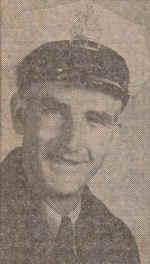 Last Name: Connors
First Name: William
Middle Name: Raymond
Maiden Name:
Date of Death: September 19, 1972
Newspaper: Daily Times
Date of Newspaper: September 21, 1972
Contributor: Bernadette Connors
Text of Obituary:

'He was a good public relations man'

By Andrew J. Reynolds

Chester-The news spread quickly Wednesday morning.

By noon when the Daily Times hit the streets most everyone - merchants, businessmen, waitresses and scores more he had served - knew. Those that didn't guessed something was wrong even if the couldn't put their finger on it.

The corner bespoke it. Even the weather - cloudy, cold, blustery, more like late October than mid-September - contributed to it.

Then those who didn't know would hear -"Bill Connors had died" And the pieces would fall into place.

Reactions ran to shock, disbelief, sadness and sincere regret in the downtown community, particularly in the area of 5th St. and Avenue of the States where Sgt. Connors so often stood with Walt Hoyle and Patrolman Bill Baker.

The mood at city police headquarters Wednesday when the midnight shift handed over assignments to the day shift and the last of Connors' fellow officers learned of his death at 9:20 the night before, was especially somber.

No one had expected it.

When Sgt. Connors went in the hospital Sept. 10 for tests, his friends were sure the friendly Irishman would be back in harness in no time.

The tragedy which was to befall the 50 year old officer was not even suspected.

"God how fast things can happen," Deputy Police Chief John Taylor thought aloud Wednesday morning.

Taylor recalled how Connors had been appointed to the force just a few weeks after him in 1950 and how he had indicated only recently following his 50th birthday how he planned to retire.

"He never had a chance," Taylor said.

"Bill was operated on Monday and never regained consciousness."

For 20 of his 22 years on the force, Sgt. Connors served the department's traffic division, most recently under Capt. Timothy Gill.

"He was a good public relations man for the department," Gill said, "Always smiling and laughing. He reminded you of the old fashioned policeman who people would run to with their problems. Everyone in town knew him."

Sgt. Connors was second in command to Gill in traffic and you couldn't ask for a better one, Gill said.

"Bill would take over when I went on vacation. There were never any problems. Everything would be taken care of. We had a very good relationship." Gill said.

He explained Sgt. Connors was good at settling any type of problem illustrating a case in point during the disastrous Sept. 13 floods a year ago.

"Bill was one of the first into Eyre Park that night. "Later in the evening he was dispatched to quell a family disturbance elsewhere in town.

When he arrived at the scene the husband and wife were at each otherís throats. He told the two of the plight of the other city residents and admonished them for their actions."

"By the time Bill left the house." Gill recalled, "the husband and wife had forgotten their own problems and apologized for summoning a police car from the flood scene."

Dom Grosso, a manager at M.J. Freed's furniture store remembers Sgt. Connors, a long time friend, as a sports enthusiast.

"We'd see each other at the St. James games or at Brandywine. It didn't matter what sport...football, basketball, baseball...he was there."

"He was a familiar figure at Freed's on Saturday's," Dom said recalling how Bill would take in the traditional afternoon sports events on television on the store's appliance center.

"He's going to be missed," Dom said.

Sgt. Connors is survived by his widow, the former Irene Frattarola; two sons, Francis X. and William R. Jr., both of Chester; two daughters, Mary Lou and Bernadette, both at home; his mother, Mrs. Marjorie Bratton Connors of Chester; two brothers, Norman and James, both of Chester; four sisters, Mrs. Thomas Lingo and Mrs. Richard Baines, both of Chester; Mrs. James Dunn of St. Petersburg, Fla. and Sister Mary Norman of Washington, D. C.

Mass of the resurrection will be 10 a.m. Saturday at St Robert's Church, Chester. Burial will be in Sts. Peter and Paul Cemetery.

Calling hours will be 7 to 10 p.m. Friday at John P. Nolan Funeral Home, 2316 Providence Ave., Chester.
Notes: From his daughter.