Old
CHESTER
in Delaware County, PA
OldChesterPa.com: The Ange Lenzi Trio
On the web since March 2000!
Always check our "What's New" page
Have you signed our Guest Book at "The Newsstand"?


A project of the National Heritage Foundation
What is this Foundation?
I'd like to make a donation to help support this website!
Would you like to sponsor this page?
Contacting me: - Update
I have temporarily cleared a small amount of space in my email box. However, spam continues to be a problem. To be sure you get through the filters, be sure to include the name of our city somewhere either in the subject or the body of your email.
You can contact me by phone. Follow this link for phone number. -John
Sponsor
"Today in Chester's History" on "The Newsstand"
(Only 5.00 per day)
SEARCH the website - Thousands of pages of Chester History!
What's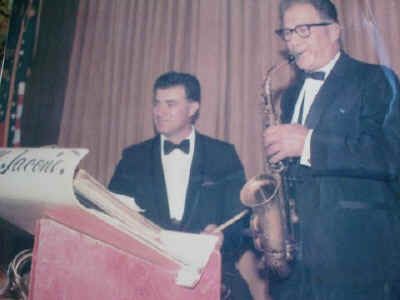 The Ange Lenzi Trio appeared each weekend at the West End Boat Club in Chester, Pennsylvania, where they delighted many of the boat club's 9000 active and social members with a variety of dance music. Therefore, it is only fitting that their first album presented their many and diverse styles of dance music.

Ange Lenzi, the leader of the group, played a Lowery H-25 console with a Wurlitzer brass horn accenting an electronic symphonizer. Ange started in music by playing the accordion at the very young age of six. As his enthusiasm and love for music grew, he mastered the piano, drums, and cordovox. He has previously performed with several combos such as the Sharps, Bel Aire Trio, and the Pete Bassie Trio. Finally, when Pete Bassie retired, Ange took over the trio. Not only is Ange a talented musician, his talents extend into song writing. He has written over forty compositions, two of these appear in this album -"A Game of Hearts" and "Angie's Bump."

The drummer, Tony DeCostanza [Obituary], had been with the group from the very beginning when Pete Bassie was the leader. Tony was versatile and had the ability to create many diverse rhythms and effects.
Jonny Cenatiempo was an accomplished sax, clarinet and flute player. He spent six years in the West Point Military Band from 1950 to 1956. He also appeared in the motion picture "The Long Grey Line" which was filmed at West Point. Johnny was a music teacher and the band leader at Yeadon High School in Yeadon, Pennsylvania. He holds a masters degree in music and was also on the executive board of Local 484, The American Federation of Musicians.

Darlene Alberici, the vocalist, could be described as being young, beautiful and talented. She was just eighteen, had two sisters who were singing with the Gold Diggers -both of them sang with the Ange Lenzi Trio prior to their climb to fame.

The guest drummer, George Borrero, appeared twice in this album ("Proud Mary" & "Angie's Bump") had played with several rock groups such as the Honey Bees, Crude Oil, and the Shires. George was free lancing and was in great demand for his excellent talent.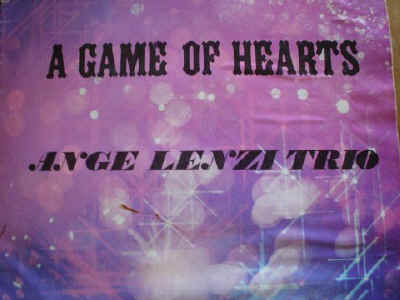 Side one:
A Game of Hearts -A. Lenzi -R. Borrero
Angie's Bump -A. Lenzi
The Woodchopper's Ball -W. Herman
The Impossible Dream -J. Darion -L. Brown
The Alley Cat Song -J. Harlen -F. Bjorn
Meditation -A. Jobim

Side two:
Proud Mary -J. Fogerty
Tie a Yellow Ribbon -I. Levine -L. Brown
My Sweet Gypsy Rose
And I Love You So -D. McLean
Here's That Rainy Day -J. Burke -J. VanHeusen
Watch What Happens -N. Gimbel -M. Legrand
When I Fall in Love -Young-Heyman
The Continental -H. Magidson -C. Conrad

This album was dedicated to Pete Bassie who inspired the making of this record and through his music brought pleasure to many.

Producer: Ange Lenzi
Recording Engineer: Eugene L. Coggins
Mastering: Nashville Record Productions, Inc.