Old
CHESTER
in Delaware County, PA
OldChesterPa.com: Goff Brothers
On the web since March 2000!
Always check our "What's New" page
Have you signed our Guest Book at "The Newsstand"?


A project of the National Heritage Foundation
What is this Foundation?
I'd like to make a donation to help support this website!
Would you like to sponsor this page?
Contacting me: - Update
I have temporarily cleared a small amount of space in my email box. However, spam continues to be a problem. To be sure you get through the filters, be sure to include the name of our city somewhere either in the subject or the body of your email.
You can contact me by phone. Follow this link for phone number. -John
Sponsor
"Today in Chester's History" on "The Newsstand"
(Only 5.00 per day)
SEARCH the website - Thousands of pages of Chester History!
What's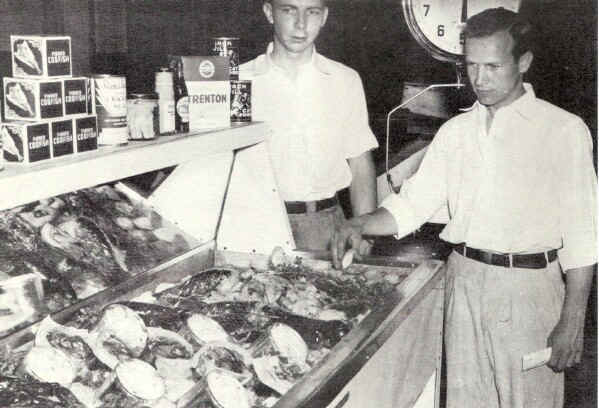 R. W. and H. Stanley Goff inspect a display to tempt the appetites of sea food lovers.

A TRUE FISH STORY
(You haven't heard this one!)
America's war-waging efforts now encompass the seven seas. It may surprise many to learn that fish from the seven seas come to the Chester market. Even more surprising is the fact that fish from the Chester market go out to all the seven seas.

Goff Brothers have been identified with "Commission Row" on Edgmont Avenue between Second and Third Streets for a third of a century. They were there when the Delaware River teemed with fish, when Delaware shad was king, was brought out of our own river by the thousands and shipped to the famous restaurants in metropolitan centers.

Goff Brothers market backs up to the Chester River only a couple of hundred yards from where it enters the Delaware. They used to bring the shad right in the back door, and you could buy a fine Delaware roe shad right out of the river across Goff's counter. Or, on your own door-step, you could listen for the tooting horn and chant of the vender - "Here comes the fish man, bring out your dish pan - porgies five cents a pound !"

Shad was plentiful and at its best when strawberry season was at its height. Southern shad from the Carolinas came to town in late February or March. Like peach season, shad season gradually moved north. Chesapeake Bay and Susquehanna shad followed in April and then came Delaware Shad. Industrial development of this great waterway which means so much in American defense hasn't driven the shad entirely away but has depleted the supply and the relatively few shad from the Delaware are a poor substitute for what once rivaled Penn and Washington as a source of the river's fame.

Goff Brothers speak with authority on fish. They have seen the transition that has taken place in methods of transportation, refrigeration, packaging and marketing. Fish now arrive by fast freight or in large trucks that rush it from the place where it's caught to the area in which it is consumed. Fish from the south in winter make an overnight journey to Chester. Of course there is the fresh fish from the Jersey coast as of yore. This is kept with ice, cracked ice, of which it takes tons to preserve it. Goff Brothers require close to a ton and a half of ice a week. The Diamond Ice Company has recently installed the very latest refrigeration equipment using natural ice, while electric refrigeration is used in some auxiliary ways.

Nowadays the great bulk of fish is frozen in advance of delivery to the local distributor. This makes it possible to bring frozen blue fish, for example, from Argentina and Australia, halibut and salmon from the State of Washington and up Aleutian Islands way.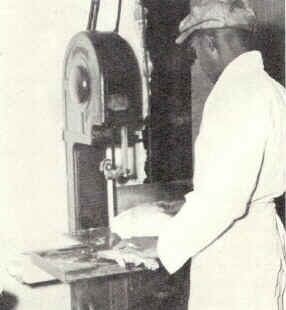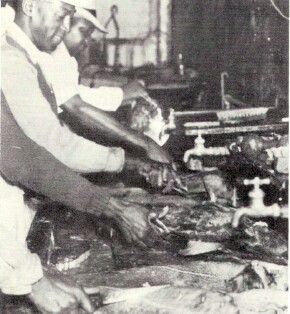 Cutting Cod Steaks Fish cleaning production line at Goff's.

Goff Brothers purchase 100,000 pounds of frozen fish for industrial consumption at a time. They are feeding 12,000 service men daily with fish they deliver to the Quarter Master Department at League Island. Cafeterias in most of Delaware County's great industrial plants get their fish from Goff Brothers, as do almost all the county's hospitals and most of its restaurants. Outbound tankers from the Marcus Hook refineries carry fish from the house of Goff. Quality markets from Darby to Claymont to Bryn Mawr and West Chester are supplied by Goff trucks.

It takes a carload and a half of oysters from Maryland and Virginia every week in season to supply the trade. Headley Brothers have a standing order to remove the clam and oyster shells' which become mountain-high in a few days if not kept moving.

Fish consumption is on the increase. Dietary requirements of various religious groups have always boomed fish consumption locally. Members of the Jewish faith eat fish daily. Traditional meatless Fridays of the the Roman Catholics over a period of years have popularized Fridays as "fishdays" with Protestants as well.

Fish production is somewhat curtailed just now due to the fact that the trawlers sail on limited schedules, by naval orders, while patrol boats and planes are hunting more sinister "fish" that lurk in the seas and menace our shipping.

The Government and the fish industry, however, are cooperating to assure a sufficient supply for our armed forces, our allies and those at home; also realizing the importance of fish in the diet, they are striving to maintain low prices.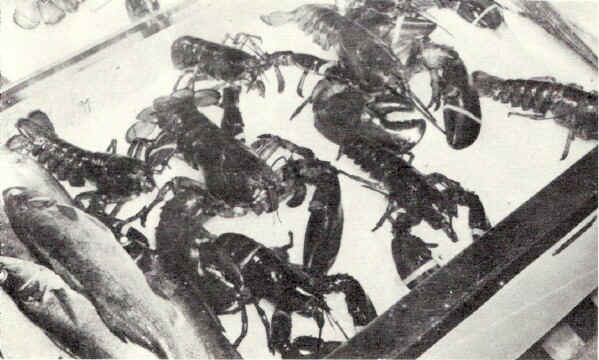 Fresh Maine lobsters rest dreamily on a bed of ice, wiggling a feeler now and then, waiting tiII the customer says "I want that one." Then will his face be red!


From The Delaware County Advocate - July 1942
Thanks to Harvey S. Martin