---
Chester Branch NAACP
Cecil W. Bond Freedom Award
April 2008
Once again I am extremely pleased yet very humbled to tell you that I have been chosen as this year's (2008) recipient of the Cecil W. Bond Freedom Award by the Chester Branch NAACP. This recognition comes in appreciation for what OldChesterPa has contributed to the city of Chester. It's difficult for me to find words to adequately describe my feelings about having been chosen for this award and I consider it especially appropriate that the award is named for Cecil W. Bond, an earlier President of the Chester Branch and active with the Pennsylvania State conference. The Chester Branch, one of the oldest, was organized in 1910 and the first president was Ruth L. Bennett.
- John
---
Delaware County Historical Society
A. Lewis Smith Award
October 27, 2007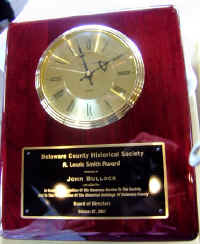 Many thanks to all for your very kind words of congratulations on the A. Lewis Smith award presented to me on Saturday October 27, 2007 by the Delaware County Historical Society and a special thanks to those who braved the uncertain weather to attend. While I am very appreciative of the award, once again I humbly accept in on behalf of all of you who have contributed to make OldChesterPa.com the rich source of Chester and Delaware County history that it has become. You are the ones who have so generously shared your stories, photos and knowledge of Chester so that we could build this online encyclopedia of Chester history!
- John
PS: The text on the plaque reads, "Delaware County Historical Society - A. Lewis Smith Award - Presented to - John Bullock - In Grateful Recognition of his Generous Service to the Society - and to the Preservation of the Historical Buildings of Delaware County - Board of Directors - October 27, 2007"
---
Heritage Commission of Delaware County Presents Award
Outstanding Contribution to Historic Preservation in Delaware County
May 2, 2006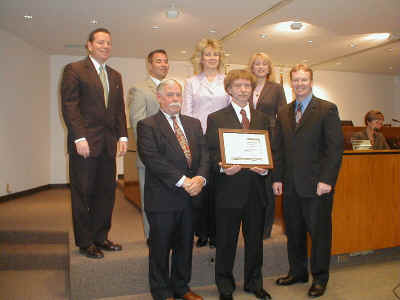 Many thanks to our long-time contributor and supporter of OldChesterPa, Jack Chambers, for taking the picture above at the Tuesday May 2, 2006 award presentation in the Delaware County Council Chambers in Media.
Although many of the award recipients did not speak, I asked if I might say a few words. I told the audience, which included quite a few of our regular contributors and supporters, that it was a bit difficult for someone who refers to himself as "Ye Olde (and very humble) Webmaster" to accept an "Outstanding Individual" award. I mentioned that many people from around Delaware County, the state of PA, other states and indeed from around the world have contributed to make OldChesterPa what it has become. I wanted to accept the award on behalf of the thousands of people who have so generously contributed their recollections, their stories and their pictures to make OldChesterPa the rich resource of Chester's history that it has become.
Among those present were Dave & Eleanor Andrews, Jack Chambers, Dot & Al Ferrari, Delores Freeman, Marion Hampton, and Larry Wood.
For those who may not have read the announcement here earlier, Mr. Dave Andrews, another long time supporter of and contributor to the site, nominated OldChesterPa for an award to the Heritage Commission of Delaware County under the "Special Program" category. The committee chose instead to honor me as an "Outstanding Individual" for my efforts in producing OldChesterPa.com, a "tremendous source of information, inspiration and nostalgia for so many of Delaware County citizens. You have truly contributed to our awareness of our heritage."
Ye Olde (and very humble) Webmaster
- John