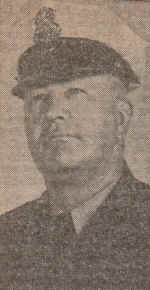 Lloyd H. Garman
Lloyd H. Garman


(A biographical sketch from a Chester Times or Delaware County Daily Times newspaper clipping, "Know Your Police" from the collection of John C. "Snakes" Boyle, contributed by his granddaughters, Jane Boyle & Patty Boyle.)
Patrolman Lloyd H. Garman is dead set against operations. Because an operation he underwent three years ago broke his record for having been present at every opening game of baseball's World Series for 25 years.
Garman, a native of Lewistown, Pa., has lived in Chester since childhood. He attended Horace-Mann, Dewey-Mann, and Franklin schools here, seven police schools and has diplomas from two FBI schools and the Penn State College police training school.
He was appointed to the police force on Nov. 1, 1938, and has served in the traffic department with the exception of two years, when he was assigned to the vice squad. Garman is now in charge of the safety program for Chester schools, directing 19 members of the traffic detail in that phase of police work. He has held that position for eight years.
Before joining the police department, he was employed at American Viscose Co., Marcus Hook. He is an honorary member of Felton Fire Company.
With his wife, the former E. Mae Bardsley, Garman lives at 800 Edgmont Ave. He has a daughter, Mrs. Florence Ward, of Levittown, Pa.
He's a rabid baseball, football, auto racing and boxing enthusiast.
[Obituary]
---