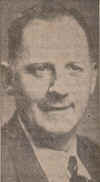 Photograph courtesy of
Jane Boyle, granddaughter
John C. "Snakes" Boyle


(A biographical sketch contributed by his granddaughter, Patty Boyle, bish99@earthlink.net )
My grandfather, John "Snakes" Boyle, who was also a Chester police Sgt., and fireman, was once inducted into the Delaware County hall of fame for boxing.
"Snakes" was his ring name, and I am told he was a tough one. I know he was an avid sports enthusiast too. He once had a room in his home that was full of sports memorabilia, and it was written up in the Chester Times a few times way back when, sorry I don't have the dates. He once sat in the dugout with the New York Yankees when they won a world series. I'm not sure of the year but it was one of their earliest wins.
He loved the world of boxing and Mohamad Ali, back then known as Cassius Clay, was one of his favorites. Known to me and my siblings as Pop-Pop, I still run into some old timers from Chester, as few as they are now, they still remember him as "Snakes". I was once told he wrestled a bear to the floor as a young man when he was up in Tamaqua, PA, and was known for saying the entire prayer "Hail Mary" in Gaelic.
---
The following is taken from a "Know Your Police" article in the Chester Times or Delaware County Daily Times, contributed by his granddaughter, Jane Boyle:
"John C. Boyle of 1034 Morton av., has been a member of the police force since Oct. 16, 1939. He was promoted to a detective on Dec. 15, 1953, following the reorganization of the police department.
He is married to the former Bessie Harkness and they have a son, Robert, 17, a student at St. James High School.
Prior to joining the force, Boyle worked as a checker at the Ford Motor Co. plant.
During the 1924-28 period he was a professional boxer in the light-weight division.
He was educated in the Chester public schools and considers sports as his principal hobby."
[Obituary]