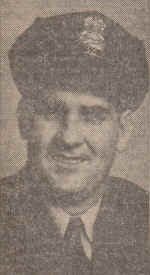 Herbert Wright, Jr.
Herbert Wright, Jr.

(A biographical sketch from a Chester Times or Delaware County Daily Times newspaper clipping, "Know Your Police" from the collection of John C. "Snakes" Boyle, contributed by his granddaughters, Jane Boyle & Patty Boyle.)
A former Navy man who served in the South Pacific for 32 months is Herbert Wright, Jr., appointed to the police force last month.
Wright, 30, was born in Chester, and attended Franklin, Lincoln and Chester High Schools. After six months in the Naval electrical school at Iowa State College, he went aboard a ship at Miami, Fla.
Prior to joining the police force he drove a truck for Quimby's Express Co. His hobbies remain auto mechanics and "electrical gadgets."
Married to the former Anna Elizabeth (Betty) Gray, they have three children, Elizabeth Louise, 10, Herbert Paul, 7, and Benjamin William, 6.
They live at 1509 Melrose av.
[Obituary]
---