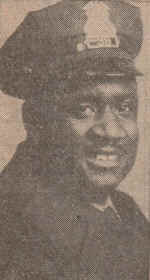 Robert T. Kinlaw
Robert T. Kinlaw

(A biographical sketch from a Chester Times or Delaware County Daily Times newspaper clipping, "Know Your Police" from the collection of John C. "Snakes" Boyle, contributed by his granddaughters, Jane Boyle & Patty Boyle.)
Patrolman Robert T. Kinlaw of the Chester police force since March 16, 1949, served 39 months in the U.S. Army in World War 2 before becoming a policeman.
During part of his Army service, he was stationed in England and Europe with the 65th Armored Bn., with the rank of platoon sergeant.
Born in Elklon, Pa., on Nov. 9, 1921, Kinlaw came to Chester in 1925 and attended the public schools here. Before entering the service, he worked for Sun Ship and Worth Steel.
Married to the former Girlena Bailey, they have three daughters, Jennifer, 7, a student at Booker T. Washington School, Denise, 5, and Barbara, 4. They live at 1711 Nichols ter.
Practice firing on the rifle range and sports in general are listed as his hobbies.
[Obituary]
---