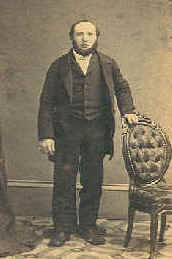 Photograph courtesy of
Tina Culbertson,
CupaTea712@hotmail.com
Isaac Dalton


(A biographical sketch by Tina Culbertson, CupaTea712@hotmail.com)
Isaac Dalton is the second child and firstborn son of Joseph and Jane Dalton. He was born August 17, 1833 and baptized on September 15, 1833 in Wetheral Parish, England. His parents were living in the village of Burnriggs at the time of his birth according to the baptism entry.

By 1842 the Daltons were living in Pennsylvania. Isaac would have been nine years old and most likely was being trained to work in the local cotton mill.

At seventeen years of age Isaac worked as an operative in the No. 1 mill in Upland, Pennsylvania. He still lived with his parents and seven brothers and sisters according to information reported on the 1850 census.

Six years later, Isaac married Mary Dickinson Hill. They were wed on October 12, 1856 in the Chester Methodist Episcopal Church. Rev. John W. Arthur officiated. Isaac was 23 years of age and Mary was 28.

By the year 1860 Isaac was employed as a Coachman. The census records show he was enumerated twice; once with the Samuel Crozer family as well as his own household. Mary was "keeping house." Two children had been born since their marriage but little Jane died at 5 months of age in 1858. Isaac, Mary and their one-year old son John were living in Upland.

On September 4th of 1861 Mary gave birth to twin girls, Mary Emma & Sarah Ann Dalton. Sadly, they both died the following year on September 8th and 16th respectively.
Another daughter, Elizabeth, was born in March of 1863. Baby Elizabeth was only 4 months old when Isaac temporarily left the family to join the Upland Volunteers.

According to an article in the Delaware County Republican, dated July 1863, Isaac joined the Upland Volunteers under the command of Captain George Crozer. He served, along with his younger brother William, in the 45th Regiment, Company B. The 45th Regiment was mustered in July 1-6, 1863 and discharged August 29, 1863.

Family lore credits Isaac as the founder of Dalton's Bakery, established and opened in Chester in 1864. It is plausible that Isaac got the business started, however, with his background working at the cotton mill, then as a coachman, and finally a groomsman - a bakery is a far cry from those other occupations. The original location of the bakery was at 14th and Walnut Streets, then 16th and Walnut and finally 16th and Providence Street in Chester. All locations were on the boundaries of Widener University (formerly PMC); the university now owns all three properties. Isaac's son and daughter-in-law, John and Anna, managed Dalton's Bakery from the 1890's onward. The bakery was still in existence as late as the 1950's.

By 1871 Isaac's family increased to four with the birth of two more daughters. Susan Coe Dalton was born in 1869 and Margaret, or Maggie as she was called, in 1871.

In 1880 Isaac was employed as the head groom at Beale House stables of the Crozer estate in Upland/Chester, Pennsylvania. They had four children living, aged nine to twenty-one years.

Isaac died April 10, 1896. Mary was born April 11, 1828 in England and died September 24, 1890 in Upland. Isaac and Mary are buried in Chester Rural Cemetery in Chester, Pennsylvania.
Isaac and Mary Dalton's children are:

1. Jane Dalton born September 17, 1857
died February 18, 1858

2. John Franklin Dalton
born July 6, 1859
died March 10, 1927
married Anna Elmira Goodhart on July 3, 1884.

3/4. Mary Emma & Sarah Ann Dalton - twins
born September 4, 1861 and
died September 8th and 16th, 1862 (respectively)

5. Elizabeth born March 7, 1863
died December 2, 1938
married George Henry McCullough on Dec. 23, 1890

6. Susan Coe Dalton born August 7, 1869
died February 24, 1959.
She never married. Photos reveal Susan to be very tall and beautiful. She was a nurse at Crozer Hospital


7. Margaret Dalton born May 31, 1871
died August 10, 1935
unmarried

All seven children were born in Pennsylvania.

[Obituary]