Home > Schools > Colleges & Universities > Pennsylvania Military Academy / College (PMA) / (PMC)
Pennsylvania Military Academy (PMA)
Pennsylvania Military College (PMC)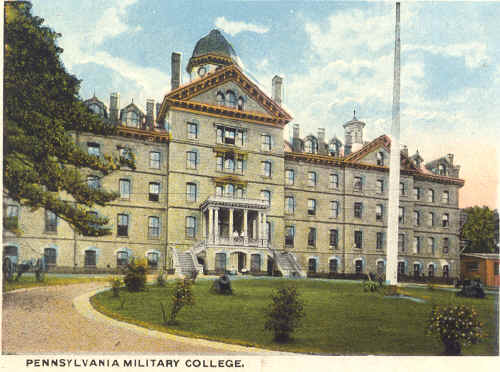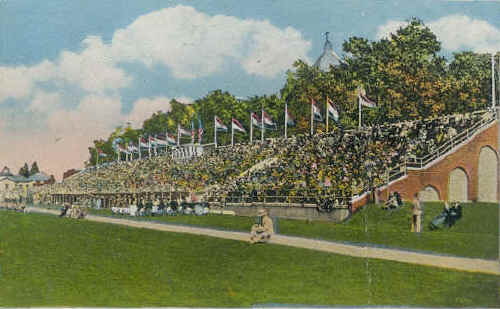 Presidents | Faculty | Staff | Sports | Classes | School History | More Pictures
Widener University's PMC Museum website.
Widener University's Photo Archives pages.
---
Presidents:

John Bullock, 1821-1846
Samuel Alsop, 1846-1853
Col. Theodore Hyatt, 1853-1888
Gen. Charles Hyatt, 1888-1930

"When wealth is lost, nothing is lost.
When health is lost, something is lost.
When character is lost, all is lost."

Col. Frank Hyatt, 1930-1952
Mr. Edwin Howell (Acting President), 1952-1953
Gen. Edward MacMorland, 1953-1959 (d. January 1978)
Dr. Clarence Moll, 1959-1981

Click here for the later Widener University Presidents.



---

Faculty:
Some Teachers:

---

Staff:

---

Sports:
Some Coaches/Athletic Directors:

Coach George A. Hansell (? - 1962)


---

Classes:
Pictures from June 1942 Commencement from The Delaware County Advocate

Some of PMA / PMC's more famous former students include:

Cecil B. DeMille

"Cecil B. DeMille attended PMC from 1896 to 1898. Apparently, he attended for free in exchange for the education his mother provided the daughter of Colonel Charles Hyatt, PMC's president. She had a girls boarding school in New Jersey. He received an honorary degree in 1931 from PMC."

Thanks to
Rebecca M. Warda, Collections Manager
Widener University Art Gallery/PMC Museum

Burt Mustin (Burton Hill Mustin), Character Actor (Graduated 1903)

---

School History:
Visit Widener University's website for a more complete history of the school.

The school was originally founded as Bullock School in Wilmington, DE in 1821.

PMC became Widener College in 1972.

The PMC Museum

More Pictures:
If you have any information and or pictures that you would like to contribute about this school, please forward it to john@oldchesterpa.com
---
© 2001, 2003, 2006 John A. Bullock III.

This page last updated 09/05/06