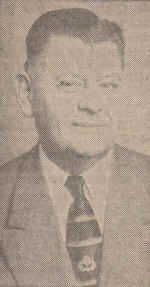 Stanley F. Rogozinski
Stanley F. Rogozinski

(A biographical sketch from a Chester Times or Delaware County Daily Times newspaper clipping, "Know Your Police" from the collection of John C. "Snakes" Boyle, contributed by his granddaughters, Jane Boyle & Patty Boyle.)
With 13 1/2 years to his credit as a detective on the police force, Stanley F. Rogozinski has been a member of the plain clothes bureau longer than any of the eight other detectives.
Born March 8, 1905, he was appointed to the police force on Jan. 28, 1930. He was promoted to detective on July 11, 1940, and has remained in that post ever since.
Prior to joining the police force, Rogozinski was in the haberdashery business.
Married to the former Martha Wyrabkiewisz, they have two children, Ilene, 18, now a student nurse at St. Francis Hospital, Wilmington, Del., and Stanley Jr., a pupil at St. Hedwig's parochial school. They live at 319 Ward st.
He attended Chester High School. A home workshop, fishing and traveling throughout the country
[Obituary]
---