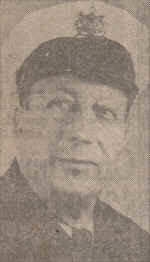 Anthony V. Cresta
Anthony V. Cresta


(A biographical sketch from a Chester Times or Delaware County Daily Times newspaper clipping, "Know Your Police" from the collection of John C. "Snakes" Boyle, contributed by his granddaughters, Jane Boyle & Patty Boyle.)
Apprenticed as a furniture finisher at the Lester Piano Co. plant in Lester, Anthony V. Cresta started there at 14 and stayed on for 16 years. Then he worked some time for M. J. Freed, Chester furniture store, as a furniture repairman, before joining the Chester police force on Dec. 10, 1941.
Now on traffic duty, Cresta rode a prowl car for eight years.
Cresta, using the name Tony Christy, played "a lot of independent baseball around here." Cresta claims to have been Danny Murtaugh's first coach when he worked with the 1930 Chester Boy's Club team.
Born in Chester, he attended the public schools here.
He's married to the former Jean Spardoski and they have two children, Sandra, 10, and Eugene, (?), both St. Anthony's students. They live at 222 Kerlin St.
[Obituary]
---