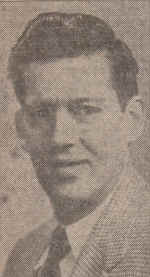 Joseph C. Boyle
Joseph C. Boyle


(A biographical sketch from a Chester Times or Delaware County Daily Times newspaper clipping, "Know Your Police" from the collection of John C. "Snakes" Boyle, contributed by his granddaughters, Jane Boyle & Patty Boyle.)
Joseph C. Boyle, although appointed to the Chester Police Department less than a month ago, actually has 3 1/2 years of police work to his credit.
Boyle, who was appointed to the force Jan. 23, served for 3 1/2 years with a military police unit in San Francisco before being honorably discharged Dec. 12, 1952. Boyle has 9 years Army service, with two trips overseas during that period.
During World War II he served with the 251st Ack Ack Ordinance Co. in Europe during 1944, '45 and '46. He reenlisted in an armored unit at Ft. Knox, KY, and was sent to Guam in 1948 after a year and a half there. Then followed his military police service.
Boyle, 28, is married to the former June G. Middleton and they have one son, Joseph C. Jr., 2. They live at 1215 Ganster pl.
Prior to joining the police force, he was employed at Viscose as an electrician. He attended parochial schools here and enjoys watching sports contests.
[Obituary]
---