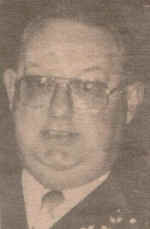 Robert J. Boyle, Sr.
Photograph courtesy of
Jane Boyle,
daughter
Delaware County Daily Times
March 1988

Robert J. Boyle, Sr., 51
longtime Chester policeman

Robert J. Boyle, Sr., 51 of Chester, a 23-year veteran of the city police department, died yesterday [March 28, 1988] at Crozer-Chester Medical Center.

Born in Chester, Mr. Boyle was a lifelong resident of the city. He graduated from St. James High School in 1955.

Mr. Boyle was a Chester police officer for 23 years, and was one the force the same time as his late father, Sgt. John Boyle, to form one of the few father-son combinations in department history. In March 1972 Mr. Boyle revived a 5-year-old city boy when the boy stopped breathing en route to the hospital after a bicycle collided with a car at 12th Street and Melrose Avenue.

He was a member of the William Penn Lodge 19, Fraternal Order of Police, and was a former treasurer of the Sun Village Athletic Association.

Mr. Boyle served in the Navy.

Son of the late John Boyle and Bessie Harkness of Chester, he is survived by his wife of 30 years, the former Maria A. Johnson; a son, Robert J. Boyle, Jr., at home; and three daughters, Patricia A., Jane and Elizabeth, all at home.

The funeral will be at 9 a.m. tomorrow from the White- Luttrell Funeral Home, 311 N. Swarthmore Ave., Ridley Park. Mass of Christian burial will be celebrated at 10 a.m. tomorrow at St. Rose of Lima Church, Eddystone. Burial will be in S.S. Peter and Paul Cemetery, Marple. Calling hours will be after 7 tonight at the funeral home.


Thanks to Jane Boyle, daughter, for sharing this obituary.
---