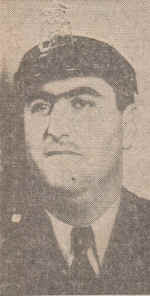 Salvatore M. Laganelli
Salvatore M. Laganelli

(A biographical sketch from a Chester Times or Delaware County Daily Times newspaper clipping, "Know Your Police" from the collection of John C. "Snakes" Boyle, contributed by his granddaughters, Jane Boyle & Patty Boyle.)
A full time policeman and a part time soldier is Salvatore M. Laganelli.
Laganelli, 32, of 408 Mercer pl., was appointed to the police force on Dec. 19, 1951.
He entered the U.S. Army on March 12, 1940 and served until Nov. 16, 1945, serving one year in European theatre with Co. A., 387th Infantry, 97th Division. He's now served five years with the Pennsylvania National Guard and is now 1st sergeant of Co. K, 111th Regiment.
Prior to his appointment to the police force he worked at Baldwin's as a machinist for one year.
He's married to the former Rosemary Honan and they have two children, Johanna, who will be 10 in March, and Michael, who was 6 in September.
Laganelli went to Chester High for two years and to a television school for one year. Television repair and model trains are his hobbies.
[Obituary]
---