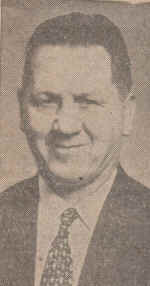 John W. Ketchell
John W. Ketchell

(A biographical sketch from a Chester Times or Delaware County Daily Times newspaper clipping, "Know Your Police" from the collection of John C. "Snakes" Boyle, contributed by his granddaughters, Jane Boyle & Patty Boyle.)
Chester police force's newest sergeant is John W. Ketchell. He was promoted to detective sergeant just a week ago after serving 3 years in the detective bureau. He was originally appointed to the police force on Sept. 1, 1938.
A former professional boxer for 11 years in the welterweight class, he had more than 300 professional fights. During this time he met Joe Dundee, welterweight champion; Vince Dundee, middleweight champion; Sgt. Sammy Baker, a topnotch welterweight; Baby Joe Gans, top welterweight; and Paulie Walker, also a leading welterweight.
In one year he met Billy Angelo, a middleweight, seven times, winning the first three bouts, losing the next three, and taking the deciding match.
Ketchell, 45 is married to the former Mary Shaeffer and they have one daughter, Mary Jane 11. They live at 808 E. 7th st.
Before joining the force he had been a stevedore. Educated in Chester public schools, he lists boxing, baseball and football, all of which he engaged in, as his hobbies.
[Obituary]
---