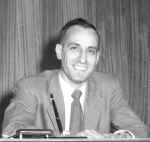 Photograph courtesy of
Alfonso Sanbe
Vincent Francis Sanbe

(A biographical sketch from AMERICAN. ITALIANS IN PHILADELPHIA AND VICINITY p. 419)
Contributed by Alfonso Sanbe

City Councilman. Director, Dept. of Parks and Public Property, City of Chester, Pa. Born. in Phoenixville, Pa., Feb. 7, 1912. Son of Charles and. Angela (Gianpietro) Sanbe. Educated in the Elementary and High Schools. With Chester City Politics since 1934. City Councilman and Director Dept. of Parks and Public Property since 1948, being first American of Italian extraction so selected in City of Chester and Delaware County. Married to Virginia Zabacki of Phoenixville, Feb. 4, 1934. Children: Angela Debora and Carl Vincent. Member of Franklin Fire Dept.; Young Men's Republican. Club, Sixth Ward Leader; Columbus Center; Order Sons of Italy in America, Holy Name Society and Abruzzi e Molese Society. Active in civic, social, political and charitable affairs. Fond of all sports, travel and music. Deeply interested and sponsor of every worthy cause, especially in helping to create more recreational activities for children, thus reducing children delinquency to a minimum. His father was born in Santa Barbara, Naples, Italy. Came to America in 1900, settling in Phoenixville. Moved to Chester in 1916, where he engaged as general contractor and builder. Had the following eight children: Alfonso, in grocery and hotel business; Raffaela; Nicholas, electrical engineer, magistrate, alderman and Seventh Ward leader; Andrew, veteran U. S. Army Air Corps, in Europe for five years; Elvira, a graduate Univ. of Penna., is a high school teacher and a short story writer; Sylvia, married to Carl Brango; Vincent Francis, of above biography; and Mary, an anesthetist. Home: 407 W. 3rd St., Chester, Pa.
---
The following "Life History" is from the program book for Mr. Sanbe's Testimonial Dinner, Sunday April 11, 1948, on the occasion of his election to Chester City Council, sponsored by the Italian-American Republican Club. The dinner was held at the Columbus Center Auditorium, Chester, PA:
36 years of age, married, two children.
Born in Phoenixville, Pa.; came to Chester in 1917. One of a family of eight; raised in the 6th and 7th wards of Chester.
Educated at St. Anthony's (American Legion Medal Winner), Chester High School and St. Joseph's Prep.
Employed by the Pa. State Department of Highways; in private business for several years; foreman Sheet Metal Department of Sun Shipbuilding & Dry Dock Company.
Life-long Republican; committeeman of the 6th ward, 2nd precinct for the last ten years.
Member of the Italian-American Republican Club; Franklin Fire Company.
Elected at General Election in November, 1947 to a four year term to Chester City Council. Took office on January 1, 1948 as Director of Parks and Public Property.
A Director of Chester Boys' Club.
[Obituary]