Home > Schools > Public Schools > Smedley Junior High
Smedley Junior High School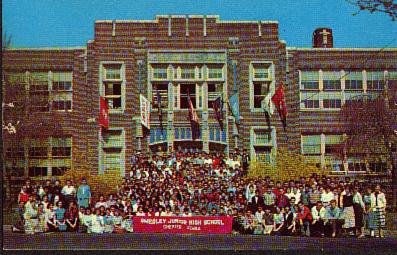 Photo courtesy of
Jane Unger, enchantments@hootowlhollow.com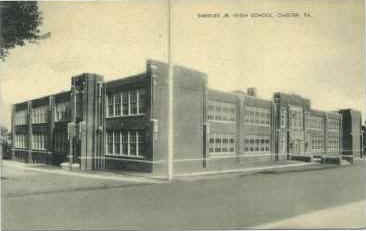 17th & Upland St.
Chester, PA
Click here for a picture of the Smedley Majorettes & Color Guards
from the class of 1954-55 submitted by Diane Trout
in memory of her Mother, Patricia Ayars (Murphy).
Smedley Color Guard 1955-1956;
photo courtesy of Rosa Sveinbjornsson Sniechoski
Smedley Jr. High Harmonica Band (1927);
Photo courtesy of Janet Andrews Moulder, JMoulder@aol.com
Principals | Faculty | Staff | Sports | Classes | School History | Recollections | Recent News
If you went to Smedley, be sure to stop by and sign in on the Smedley Class Reunions page!
---
Principals:

First Principal: Margaret Stetser (1924 until she retired on February 1, 1946)

Stetser Elementary School was named in her honor.

Joseph M Joseph (1946? - 1948-51 - ?)
Albert L. Berger (1961) - 1
Anthony Iacono (? - 1974-75 - ?) - 4





---

Faculty:
Some Teachers:

Dorothy Burke - Algebra (1961) - 1
Kathryn Bennett - English (1961) - 1
Hattie Carson - English & The Spotlight (1961) - 1
John Claypool - Social Studies - 3
Miss Ethel Eachus (Geography c. 1939, 1948-51, 1957-58 - ?) - 2, 3

(Read Bill Hazelton's recollections of Miss Eachus below.)

Mr. R. Reed Edwards (taught math & enjoyed photography; I have two pictures of our math class that he took) - 2
B.H. Johnson, history, 1925-?
Jim Kelly - English 62-? - 3
Floyd Kerr- Sci ?48-61? - 3
Dan McGinniss (1959-1962) - Health & Physical Education - 3
George McGorman - English 60-61 - 3
Rose Membrino - Business - 3
Glenn Miller-Health & Physical Education - 3, 5
Miss Rebecca T. Oliver (taught music at Smedley and had taught English earlier in other Chester schools) - 2
Walter Omlor - Metal Shop - 3
Joseph Rhen, Latin (had a beautiful bass singing voice) - 2
Dorothy Rhoades - French or Spanish - (I can't remember which) (1961) - 1
Ruth A. Showalter Hayes (1944-1945) - 8
Harold Stefl - Math ?48-51? - 3
Bob Vaughan - 4
"I taught vocal and instrumental music at Smedley Jr High starting in 1942 and in 1950 after 8 years of instrumental work in various schools, I was elected Supervisor of music for the district and director of the Chester High School band. In 1946 I turned over the band to Harold Schiff and served full time as supervisor of music. Toward the end of my service, I was elected Director of Fine Arts for the district and supervised Music , Art, Photography and Theater Arts."
Eleanor Tomlinson - Math - ?48-62? - 3
Walter Watkins - Social Studies - 3
Margaret Weir (retired 1949)
Mr. Winiarski - Music - 6

Smedley Faculty in 1950 - 4

Joseph Baker
Al Berger
Constance Bowen
Beatrice Brace
John Claypool
Elinor Cox


Margaret Craig
Gabriel Damico [See note below from Gabriel & Anne Natale Damico]
John Demarski
Ethel Eaches
Arnold Estis
Barbara Fowle
Margaret George
Helen Hubbard
Delores Josephkovitz
Floyd Kerr
Josephine Kidd
Doris Lewis
Max Long
Erma McClerry
John McDowell
Thomas McKinney
Roberta Magargee
Hattie Mason
Rose Membrina
Glenn Miller
Margaret Mills
Harold Molton
Sidney Moskoff
Lillian Murray
Ed Northam
Walt Omlor
Elva Pennington
Roscoe Ridenour
Florence Senkowsky
Sal Soscia
Harold Stefl
Anne Stein
Leone Strumpf
Eleanor Tomlinson
Art Walker
Walter Watkins

More Smedley teachers:

Mercy McGowan - Music
Mr. Naulty - Engineering Drawing
Hop. Howard - English
Nate Plafker
Jake Sapovitz
Miss Fergason
Mr. Bell - Social Studies
Mr. Crawford - Gym
Wes Rhodes - Music
Mrs. Ferguson

"I attended Smedley from '38 until '41. My homeroom teacher, Mrs. Ferguson, was one of the finest people I have ever known. I can close my eyes and see her as plain as though she were in front of me now."
Thanks to
Edward Dixon, Rehoboth Beach, DE


---

Staff:
Anne Natale was Joseph M Joseph's school secretary from 1944 until 1954 after graduating from CHS. Anne and Gabriel Damico were married in 1951. Damico was on the Smedley staff teaching Science from 1949 - 1963. He was also in the Smedley class of 1941. They moved to Claremont, California where they presently reside [March 2007]. Gabriel (Gabe) taught Science at Claremont High School. Anne taught English at the same High School. Gabe later became principal of the middle school in the same school district. They are both retired. They have traveled all over the world, both can be emailed here.

Madeline Jenkins - Secretary (1961). "She also was my girlscout leader" - 1

---

Sports:
Some Coaches/Athletic Directors:

---

Classes:
Cooking Class, 1933 (Photo courtesy of Mrs. Irma Mailman Kohn, Chester, PA)

Class of February 1936 (Photo courtesy of Mrs. Irma Mailman Kohn, Chester, PA)

---

School History:
Smedley Junior High School opened in 1924.

---

Recollections:
August 26, 2004

"I was just browsing through the Schools section and came upon Bill Hazleton's story about Miss Eachus at Smedley School. I didn't have to read more than the first line to know that's who he was writing about! She was my home room teacher, too, and my recollections of her are much like his. What's amazing is that I was at Smedley from 1936-39 and he was there 20 years later. One thing I remember is that if the room got noisy as we were getting ready to be dismissed, she made everyone sit down & be absolutely quiet, no matter how long it took! On days when I had an after-school dentist appointment, I went through agonies--worried about going to the dentist all day & then worried for fear I'd be late!"

- Kay (Krell) Hutchinson

---

May 10, 2004

"I went to Smedley in 1957-1958. My first memory of that school was when I was in the auditorium after a new student welcoming. I had just taken a pencil and written my name on a freshly painted wall then this voice behind me bellowed out "What the H--- do you think you're doing?" Trembling, I turned around and there stood this little old lady staring a hole through my forehead. She told me that I could stay there until I had erased every single mark off all of the walls. Some time later I went to the office to get my homeroom assignment and was told to go down the hall to room 11, BUT be sure to knock before entering. Well, I went down the hall to room 11 and knocked on the door and a voice roared our "Come In!" I started to shake again and thought Oh no, this can't be happening to me, but it was. Welcome to Ms Eachus' homeroom. She asked me where I was from and I told her Scranton, PA. She called me a coal-cracker and told me to sit down. I spent two years there, paid my overdue homework fines to her in quarters or candy bars (which she promptly sold at the school dances). Even though that was over 45 years ago, I can close my eyes and picture her face and hear her voice. In all my years of schooling, I have never had a teacher who even came close to this lady in instilling fear, and then a genuine respect for her and others. She taught me more about people and life (not just geography) than all my teachers and life itself have taught me since. I found out much later that all the money she collected from students, as well as a great deal of her own money, went into shrubs planted around the school, and paintings hung inside the hallways.

I remember a day in homeroom that one of my classmates was talking and she called him up to the front of the room. She had placed a wastebasket next to her desk, took a scimitar off the back wall, and blindfolded the student. She then proceeded to tell him that she had had enough of his antics and was going to chop his head off. If she hadn't started to smile at that point, I think we would all have run from the room. She extracted a promise from him that he would never talk in class again. Years later in 1968 I ran into that student in Germany where we were stationed and I called out to him "Paul, do you remember Ms Eachus?" and we both started to laugh. I'm sure that Paul St. Germain remembers her fondly as well.

Many years later (1973) I went back to Chester for my father's funeral and decided to see if Ms Eachus was still teaching. I was told to go to the administrative building where she was working. When I went in the receptionist told me to go down the hall but be sure to know before going in. I couldn't help but chuckle to myself. When I knocked on her door, she looked up and said "Well, if it isn't the coal-cracker!" Some 15 years later and this lady not only remembered me but remembered the nickname she hung on me.

I happened to notice on the Chester Rural cemetery listings that Ms Eachus had passed on. This deeply saddened me and prompted this recollection. My apologies for the length but hope it triggers some fond memories for someone else."

- Bill Hazelton

---

"After I got to that school a Music teacher by the name of Mr Winiarski came to the school and took over the band for a few years. He gave lessons during school and if you were in the band they fixed so you could have a whole period of lessons. I was playing the trumpet at the time but thought I would like to play the tuba so Mr. W as we all called him gave me lessons on the tuba. I picked it up and played it for the rest of my years at Chester public schools. By the way that is where I got to meet Teddie Catrell the football coach at Detriot Lions this year."

-James Crystle, j.crystle@worldnet.att.net

---

Recent News
January 2007:

Cudos to Smedley Middle School Students!

KYW Newsradio reports that Smedley Middle School students have collected 100,000 pennies ($1,000.00) for the Community Action Agency of Delaware County through a program called "Pennies from Heaven", organized by the PA Higher Education Assistance Agency. The winning homeroom was #319 which collected almost $400. All of the students from that class will attend a home Sixers game for their efforts.

Congratulations to these students for a very commendable job! With ambitious, caring and generous young men and women like these, we know that the future of Chester is in excellent hands!

Full story on kyw1060.com
Many thanks to the following for their contributions to this page:

1 - Mary Ann Littley Bell MBell37505@aol.com

2 - Kay Hutchinson, bkhutch@dmv.com

3 - Dan McGinniss, danm@dmv.com

4 - Bob Vaughan, bbvaughan@aol.com

5 - Glenn Miller, glennojayne1@mycidco.com

6 - James Crystle, j.crystle@worldnet.att.net

7 - Sheree McGowan, picabostow@hotmail.com

8 - A. Harold Showalter, hshowalter@pa.net, brother of Ruth A. Showalter Hayes.

9 - Herb Grubb
If you have any information and or pictures that you would like to contribute about this school, please forward it to john@oldchesterpa.com
---
© 2000, 2001, 2002, 2003, 2004, 2006, 2007 John A. Bullock III.

This page last updated 09/08/10