Old Chester, PA: Parks
Lloyd Field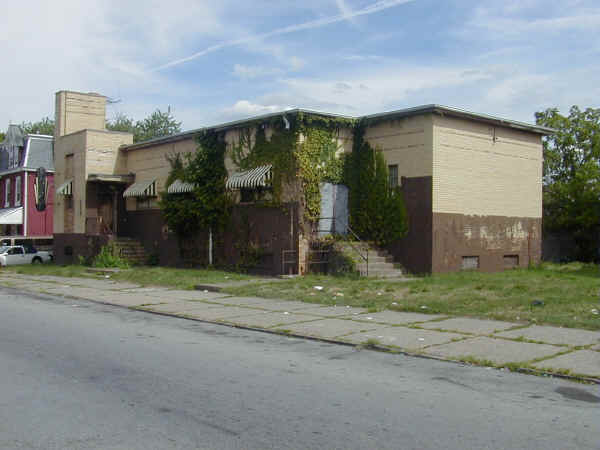 2001 Photo courtesy of "Joker" Jack Chambers, Jokerjak908@yahoo.com
6th & Lloyd Streets
Chester, PA
Park History | Recollections | Add Your Own Comments!
---
Park History:
In 1933 Lloyd Athletic Club was located at 1118 W. 3rd St.

---

Recollections:
"John: As you know, my dad's drug store was at 7th and Lloyd [Lloyd Pharmacy], and one of the greatest things that I remember about the neighborhood was the old Lloyd Field at 6th and Lloyd. I remember many different events held there. I remember a circus there one time in the fifties, boxing and wrestling matches, high school and semi pro football, and of course the great baseball played there, ranging from teener league (I played on Lloyd A.C. in the Chester Teener league team in 1960-61 under manager John Zosh), delco league, and even some minor league teams played exhibition games there. And of course the King and his Court. Perhaps a specific section could be set up for old Lloyd Field so that anyone with recollections of specific events could write in. Would love to hear from some of the former people who played there, also."

[Editor's note: Unfortunately the form for submitting recollections has been the victim of a great deal of abuse from spammers so it has been removed. Please submit your recollections via email to the webmaster for posting here. - John]
---
Name:

Alison Todd

Residing:

Chesapeake, Va 23323

Date:

15 Jan 2007

Time:

11:43:50 AM -0500

Recollections

My Father was a member of the National Negroe League. My Father played with the Indianopolis Clowns, his name is Elzie Todd.

---

Name:

Reese Wright

Residing:

St. Petersburg, Fl.

Date:

22 May 2006

Time:

09:18:08 AM -0400

Recollections

I am trying to find an old boxer also from Chester, Pa. His name is Craig Allen Wright if u know any info please wright back.

---

Name:

Steven Levin

Residing:

Ukiah, CA

Date:

13 Nov 2005

Time:

01:15:45 AM -0500

Recollections

Someone mentioned Lee Crosby, Hell Driver. He worked in a Thrill Show that my Dad ran. He ran a thrill show at Langhorn Speedway and perhaps Lloyd Field. All American Hell Drivers. If anyone has any info on him please e-mail me at steven@levinengineering.com

---

Date:

1/18/2005

Time:

5:06:13 PM

Remote User:
Comments
Lloyd field was located where dorian court now sits. There was a baseball field , a football field and in back of the baseball stands was a boxing ring.In fact, St James played some of their football games on the field during the early sixties and some black baseball players who called themselves tha clowns, appeared on that field many times when they traveled from the south. chell-stock@earthlink.net c.o stockton cottman
---
Date:

10/14/2003

Time:

2:35:25 AM

Remote User:
Comments
THE PICTURE SHOWN AS LLOYD FIELD IS NOT LLOYD FIELD, IT'S LLOYD'S AC ((ATHLETIC CLUB), WHICH IS LOCATED AT 7TH AND LLOYD ST. ..... LLOYD FIELD WAS A BASEBALL FIELD AT 6TH AND LLOYD ST!!!
---
Date:

3/8/2003

Time:

10:02:17 PM

Remote User:
Comments
Also: When the field was demolished, some of the field lights were taken to Phoenixville (where I live). They are now in place at the Babe Ruth field in town (DeSanno Field).
Larry Blazynski
---
Date:

3/8/2003

Time:

9:58:04 PM

Remote User:
Comments
My father told me he remembers seeing Josh gibson hit the longest ball he ever saw go over the left field wall. From others, it seemd the left field fence approached 500 feet in distance from home plate.
Can anyone provide a picture of the inside and outside of the field?
Larry Blazynski
---
Date:

8/5/2002

Time:

1:51:46 AM

Remote User:
Comments
I too remember all most of what the others do. All the sports events that were played there are hard to forget. Something that many do not know. The reason that St. James did not play yhere during the war. Ford used it as a parking lot for the military vehicles they were building. JJ
---
Date:

6/20/2002

Time:

5:26:11 PM

Remote User:
Comments
WHEN YOU MENTIONED LLOYD BEING HOME TO THE TEENER LEAGUE, IT BROUGHT BACK SOME MEMORIES. MY FATHER JOHN H. MORENO WAS ONE OF THE FOUNDING FATHERS. I PLAYED THE FIRST COUPLE OF YEARS, ON THE "CIO" TEAM. I THINK WE WERE SPONSORED BUT LOCAL 212 . THEY WERE THE YELLOW CAB UNION. SOME WHERE I HAVE A PICTURE OF MAYOR SWARTZ (THINK THAT WAS HIS NAME) GIVING OR GETTING A CAKE FROM SOME TEAM MEMBERS WILL TRY AND DIG IT OUT AND SEND IT TO THE WEB PAGE. JIM MORENO
---
Date:

6/14/2002

Time:

12:07:05 PM

Remote User:
Comments
We lived on Lloyd St. and used to watch all kinds of things from our front bedroom windows. Football, baseball, wrestling, boxing, Lucky Lee Crosby's Hell Driveres, you name it, we saw it. Even with this advantage ,though, i doubt if anyone ever snuck into Lloyd Field any oftener than i did. My Dad was a long time member of Lloyd AC, and I used to help him line the football field and the base lines. Late 30's and early 40's, as he died in December of 42. A couple of old members that i remember were Dave "Boob" Farraday, from 7th St. and "Skinny" Reiner, (who was about as skinny as the Michelin Man), from Lloyd St. A couple of the wrestlers that i remember were George "The Golden Greek" Macricostas and Primo Carnera, who as I remember him was about 8 feet tall. That may not be real accurate, becuse i was probably only about 4 feet tall at the time. I also remember Caranci's Drug Store, Di Vecchio's Barber Shop, and Joe DiGiacomo's Butcher & grocery store.
---
Date:

5/3/2002

Time:

4:24:48 PM

Remote User:
Comments
My father told me about his days at Lloyd field, when they would sneak under the fence halfway through the game to get in. I have a picture with three of the auxilary Chester Cops standing by the spot in the fence where kids used to sneak in.
Vincent Gabriel Lavella Email- VinLavella @aol.com
---
Date:

3/29/2002

Time:

1:23:03 AM

Remote User:
Comments
Trying to find info on a boxer from Pa area - boxed also while in the army WW II.....Paul Cheslock or Shesniak - pls contact Whitekar@aol.com
---
Date:

3/17/2002

Time:

6:35:10 PM

Remote User:
Comments
hey, Lloyd do you know the best way to make snow cone syrup or the cheapest place to buy some syrup? mike mfkemmeries@cs.com
---
Date:

3/2/2002

Time:

10:40:41 PM

Remote User:
Comments
In the late forties after ww 2 saw jackierobinson and larry dolby both play lloyd ac had to catch afoul ball or climb the fence in right field to get in wasn t the announcers name fffffffffffffffffffffffffaragington he lived right across from the field on lloyd street cranci jr should remember that famile didnt the meehan family rent off your dad and a leo work at the store?
---
Date:

2/26/2002

Time:

5:10:15 PM

Remote User:
Comments
to the unsigned contributor to LLOD FIELd. JIMMY PEE, FUZZY , TOMMY, DICKIE, BROTHER. COME ON MAN, I WAS THERE. PROBABLY THE ONLY WHITE KID PLAYING BALL WITH YOU GUYS. DO YOU REMEMBER WHAT HAPPENED TO TOMMY KELLY AT THE FIELD? WHEN HIS LEGS WERE BROKEN BY SOME GANG. GUY WAS A HELL OF AN ATHELETE. ROTTEN THING. LOU CALVARESE
---
Date:

2/26/2002

Time:

5:03:54 PM

Remote User:
Comments
To Mike Tenuto re LLOyd Field. TSK TSK hopping cars! the old railroad station and lloyd field. Didnt gave to go far to play. I lived on Lamokin St. Spent lots of time at LLoyd. Played a lot of ball there with the local guys. We would slide under fence near the RR bridge. Lou Calvarese
---
Date:

9/26/2001

Time:

10:35:08 PM

Remote User:
Comments
I was in the St James Catholic High School band (1949 - 1953) when all of the STJ home football games were played at Lloyd Field. My girfriend, now my wife of 44 years, was very short (4' - 8-1/2") tall and we used to put her in the middle of the band when we marched in the gate to Lloyd Field. Once inside, she would go and wait in the stands where the band would sit. I never had to pay for a football ticket in high school. Tony Casciato tony.four@verizon.net
---
Date:

9/14/2001

Time:

9:48:39 AM

Remote User:
Comments
Dear John: My name is Jim Crystle and remember trying out for little league there back in the 50's. I played ball with Lew Krause and David Krause in the little league at Central Little League. I played for Briggs Sporting Goods. My Grandfather John Crystle bought me my first baseball glove there. It was a big day for me,it was a 3.99 special.That was alot of money then. I also got my first bat there too. I was a pitcher for that team. I tried out twice there just to make the team. David &Lew played in Sun Villiage but they were there when I was there.Went to school with David and Lew. Lew made to the A's back in the early 60's. I have alot to talk about but just wanted to say to thanks for loading this to the Old Chester Page.
---
Date:

8/29/2001

Time:

8:26:35 PM

Remote User:
Comments
my father was one of the founders of lloyd ac, i have many good memories of events at lloyd field in the 40s and 50s. i have a large picture of the original 1924 football team. my fathers name was Mickey Cummings. my names is also Mickey CUMMINGS A 1955 grad of st james. i am a retired meteorologist living in north florida. my email addr is irrdesign@bestnetpc.com. it would be greart to get info about lloyd ac
---
Date:

8/15/2001

Time:

4:03:33 PM

Remote User:
Comments
Lloyd Field--- demolition derbys, Lloyd street bridge was our starting point for some of the best sledding in the city. not only would we sled, but we'ed run out from under the bridge, hold onto the back bumper of an unsuspecting driver, and with only rubber boots let this car drag us all over the city while we crouched behind. One Hallowen i remember running out from under the bridge, and with rope in hand, would sneek behind a car stopped for the stop sign, and tie the rope on its bumper. the other end would be tied to a metal trash can which would then be pulled down Lloyd St when the car pulled away. what memr. Mike Tenuto xpsptpr@aol
---
Date:

8/14/2001

Time:

5:59:51 PM

Remote User:
Comments
I remember Lloyd Field as being the home field for St. James High School. The Jimmies had a great team in 1953, led by All American Dick Christy. They were undefeated and played before big crowds on Sunday afternoons. I remember all extra points and field goal attempts had to be kicked towards 6th Street as on the other end were the tracks for the Pennsylvania Railroad.
---
Date:

8/14/2001

Time:

2:06:20 PM

Remote User:
Comments
we lived on 3 rd and LAMOKIN ST. OUR GANG WOULD CROSS THE LLOYD ST BRIDGE ( SCARY AT TIMES )AND WOUD SLIDE UNDER THE FENCE AND PLAT BASEBALL ON A MAKE SHIFT FIELS AT THAT END OF LLOYD FEILD. DICKIE, BROTHER, JAMES PEE, JIMMY, TOMMY, FUZZY
---
Date:

8/13/2001

Time:

10:06:00 PM

Remote User:
Comments
Jim Hanavin jhanavin1@aol.com
I remember as a child my father taking me to lloyd Field to see boxing matches and wrestling way before the "WWF".While in St james Catholic High School in the late 50s I went to many home games of St.james at LLoyd Field as we did not have a feild of our own. Win or loose it was always fun. I am sure many oters can remember the same games .
---
Date:

8/13/2001

Time:

10:22:41 AM

Remote User:
Comments
When I was a student at Immaculate Heart of Mary School I remember walking up to Lloyd Field and watching St. James playing football on Sundays. Me and my friends always had a great time watching the game from outside the fence.
DIOP@aol.com
---
Date:

6/30/2001

Time:

2:25:02 AM

Remote User:
Comments
In the 1920's Smedley Field was located at 6th and Lloyd and was also used for professional and amateur boxing as well as football' baseball,etc. The boxing matches were promoted by Baron Dougherty of Leiperville and also by a Pete Kennedy. I am wondering when the name was changed to Lloyd Field or whether it was a new structure replacing the old (Smedley Field) and if anyone has any news clips from the events at these venues? I have many news clips of boxing matches fought at this site as well as Leiperville Arena, St. Hedwigs and the Chester Armory. Am looking for any old photos or news photos. Best wishes Chuck Hasson PHILADELPHIA + DELCO BOXING ARCHIVES E-mail phlboxarc@aol.com
---
Date:

4/1/01

Time:

12:23:55 PM

Remote User:
Comments
John, I remember my Dad, Frank Wood (1907-1989), telling stories of going to the ice house and getting a block of ice and hauling it in a wagon to the field. He would make his own syrups and sell snow cones, I still have the old iron snow cone maker. I went to Wetherill Elementary and Smedly Jr. High and then moved to Florida in 1963. I lived on Avon Road, which was chester on my side and Parkside on the other. It was near Chester Park, the pictures in your Parks section were great, brought back memories of fire works, sledding and rock climbing. I use to love to go to Hall's Drugstore for Breyers ice cream cones with "jimmies" on top. Anyone ever have one of their Momma's mistakes? My Mom was Lilly Wood, 1915-1981. I am a cousin of Joe Caranci, who suggested this page. I have two sisters, Barbara, Nancy and brother Bill. I was born in '48. Thanks for the memories. Susan Wood Anderson- suebee@cfl.rr.com
---
Date:

3/30/01

Time:

5:25:03 PM

Remote User:
Comments
I played football for Lloyd A.C. in the S.M.F.C in 1947 thru 1950. We were managed by Joe Orbono and coached by Jesse Brewster and Joe Pepe for 2 yrs., then by Phil Marion and Tony Caia for the next two. John Zosh was also on the football committee. It would be nice to hear from anyone who was on the teams at that time. Ed Gallagher edgalall@webtv.net
---
Date:

3/29/01

Time:

4:29:42 PM

Remote User:
Comments
John Some of the events I remember taking place at LLoyd Field; St James football games on Sundays, Lloyd AC versus teams from the Negroe National League( Indian apolis Clowns, New York Elite Giants, etc), Rodeo w/ Big Syd the Bull, Delco League baseball games (short right field fence and long long left field fence.
Dan McGinniss--danm@dmv
---
Date:

3/26/01

Time:

11:00:32 PM

Remote User:
Comments
Thanks John for creating this site. Lloyd Field held many memories for me, from sneaking in under the fence, to playing teener league ball, and watching many football and baseball games there. I also remember the boxing ring that was there, and, although I was very young, I remember seeing boxing and wrestling matches there (our house backed up to the field, and we all gathered at a back bedroom window). I have no idea who participated, but hopefully, other people can list some of the boxers and wrestlers who came to Lloyd Field. The delco league in its hayday, played there, as did semipro football teams. And of course, St. James played many games there. I hope this site brings back a lot of good memories for visitors. Joe Caranci
---
---
If you have any information and or pictures that you would like to contribute about Lloyd Field, please forward it to john@oldchesterpa.com
---
© 2001, 2003, 2005, 2007 John A. Bullock III.


Revised: 08 Sep 2010 07:36:23 -0400.