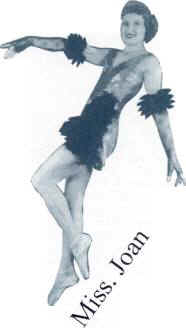 Photograph from Miss Joan's memorial card courtesy of
Alice Ritter
Joan Durham "Miss Joan"


(A biographical sketch by Alice Ritter, Rettira@aol.com)

A Tribute to Miss Joan, Chester's Grand Dame of Dance
January 14, 1911 - December 4, 2002
Joan Durham was God's angel on earth to all she taught and to all those who came in contact with her.

As each child entered the dance studio they were taught not only the fundamentals of dance, but also patience, kindness, courtesy, respect for everyone--especially their parents-- with Miss Joan's words--"LET'S BEGIN".

Miss Joan loved the baby classes. Children the age of 3 years--for every First Position of ballet taught--the only thing Miss Joan wanted in return was quiet. When each Second Position was studied--the children were asked to wait patiently their turn by sitting in line on the floor. Third Position was not only the foot position but head and hand position--teaching control. Fourth Position was the step, standing tall--and sharing the limelight with the other students of the class and the lesson of true balance. Fifth Position of ballet to some would be considered very difficult to do --but each child challenge themselves to do as Miss Joan-- due respect to her teaching guidance.

Miss Joan always considered her appearance before her young "gems". She wore a leotard but always added a skirt to the outfit thus showing she was "teacher". Her students could find their names on a handmade chart showing their progress with gold stars. Each child had their own reward book (similar to the sticker book of today). To help the students have interest in dance, Miss Joan would suggest to them to look in magazines, etc. for pictures of dancers, dance positions and bring the pictures to the next class. As each would come into class over exuberant to show their wares, Miss Joan was always the quiet loving soul to the little 'chatterboxes' -- always trying to express the importance of dance to each one of her young charges.

There was a combination of ballet, acrobatics, tap, and --how to hop, skip and jump--as a group for each Beginners Class. What a challenge for any teacher--25 to 30 three-year-olds-- One class after another--year after year. AND THEN THERE ARE THE PARENTS! ! ! Miss Joan was so considerate of all the parents and their opinions and views--BUT first and foremost Joan's dedicated attention was to her students. If there was a time where a little one would fall or one would hit the other--Joan was always there with a loving, quiet way to reinforce kindness and confidence in the child/children in her class.

As a parent the wonderful memories come to mind of how marvelously Miss Joan conveyed to the beginners to 'TAP-RIGHT FOOT,--NOW TAP -LEFT FOOT –NO --LEFT FOOT. Miss Joan taught coordination of right-from-left; front-from-back; move to the right side- move to the left side. Sometimes you would want to be alongside your child to help with right and left--but Miss Joan was the instructor and she needed each child's undivided attention. On return home was the time to work with your child.

Miss Joan taught several families of the Chester area--as many as four generations. Her beloved husband whom she married in Chester in the year of 1935 also taught dance. Brooks Durham and Joan danced with many stars of Hollywood and had several students who went on to success. They brought three children into their family-- Dale and Barry continue success in their lives in other avenues of business. Miss Joan retired from dance five years ago. At that time her granddaughter, Kandy Sheehan became in charge of the dance studio. Kandy was taught dance from two years old. Kandy has worked with Disneyworld and Disneyworld-Japan among other credits. All through the beginning of her grandmother - MISS JOAN.

Miss Joan's teaching.

Each child that was taught dance was also taught that they would perform for their families at the end of the dance-year. Miss Joan taught them how to come on stage and leave stage – in the dance studio room. She would form the line according to the height of the child, sometimes putting one or two in front of the line – those who were better in the steps and timing – sometimes two rows. Constantly she changed the students – allowing each the challenge to be in front – just to prepare each that responsibility.

Miss Joan for years would sew all the costumes--ordering the materials-fitting each child-lining the costumes so the outfit would not be pricky. From Christmas until recital time no one would see that much of Miss Joan--she was busily sewing in her own home. In preparing this tribute, I spoke with her students asking, "What did they remember about Miss Joan?" Cheryl Bradley remarked that as a child she was in awe when she was asked to go upstairs to Miss Joan's home to be fitted for her costume. As she approached the room where Miss Joan was sewing she was amazed at ALL the TUTU's hanging from a clothesline-- it took up the whole room. During my years as a parent, I learned how to sew sequins onto a cloth leotard-- one by one--in one instance--10,000 black sequins were sewn onto a costume. One outfit bangles were sewn- -that year the group performed on the Atlantic City Steel Pier. Parents helped with the shoes and chopsticks, boxes to dance on, gloves, etc. The shoes were to be spraypainted--and not the night before-or you would have paint on you and everywhere else.
Then there is MAKEUP!! Mother always says no lipstick for a 3-year- old---But on stage --it's MAKEUP.

Within 8 months Miss Joan prepared these little ones to be STARS --- frilled in costumes, with makeup, dancing on a slippery surface stage with a light blinding them and Mom/Dad flashing cameras at them on stage, --AND- singing a song with expression of facial and hand movements to coincide-- all the lessons can GO OUT THE WINDOW-- but occasionally a student would hear Miss Joan prompting them from the side of the stage and suddenly they would remember to point the toe --and always-- THE BOW!! The dancer's Thank You to their dedicated audience. WHAT AN ACCOMPLISHMENT !!

There is a time in one's life when the question arises -- What have I given to this world??? Miss Joan's students have gone on in life as better people successful in many walks of life--some continuing the teacher's lessons of teaching the children--whether their own or others. Of the student's remembrances of what Miss Joan gave to them was kindness-- helpful-- always encouraging -- understanding. Such a beautiful honor to their teacher.

As Miss Joan has joined her dear husband, Brooks and her Lord and Savior, it is felt that she continues to love and teach those angelic little ones. GOD LOVE YOU -- MISS JOAN
[Obituary]