Home > Transportation > Clover-Leaf at Black Horse (Rt. 1 & Rt. 352)
The Clover-Leaf
Opened August 31, 1939
Photos from the September 1939 issure of The Delaware County Advocate, founded by John Spencer in 1868 as a weekly newspaper. Published as a monthly picture magazine since August, 1938, by John Spencer, Inc. 8th & Sproul Sts., Chester
courtesy of Frank DeMaio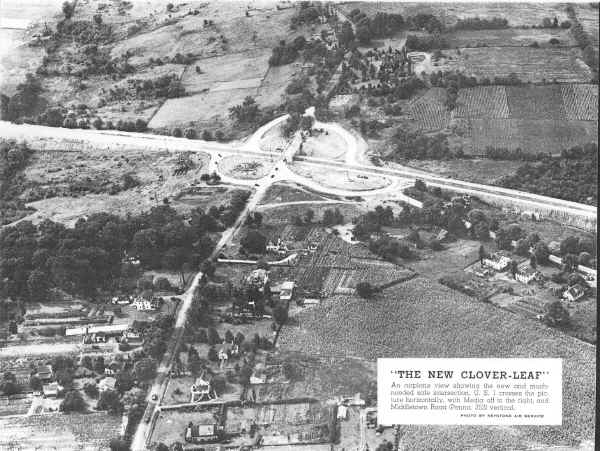 "An airplane view showing the new and much-needed safe intersection. U.S. 1 crosses the picture horizontally, with Media off to the right, and Middletown Road (Penna. 352) vertical."
Photo by Keystone Air Service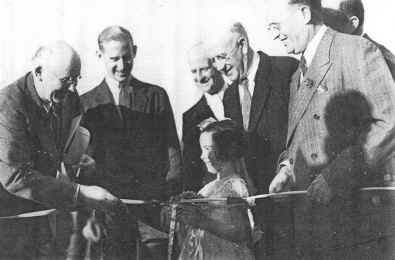 "For almost a year the rumor spread through the county that the old Black Horse Tavern was to be demolished to make way for an elaborate new crossing. Never could the rumor be confirmed. Then, suddenly last fall work actually began. The Black Horse Tavern did disappear and a splended new cloverleaf intersection took its place. On the last day of August the new stretch of road on U.S. 1 beyond Media was opened with fitting ceremony.
(Above) Star of the ceremony was little Nancy Weathers who cut the ribbon formally opening the road. With her are Thomas C. Frame, her uncles and grandfather, contractor Skelly, and Commissioner James B. Miller.
(Below) The parade of official cards from Media approaches the new intersection and traverses its every curve.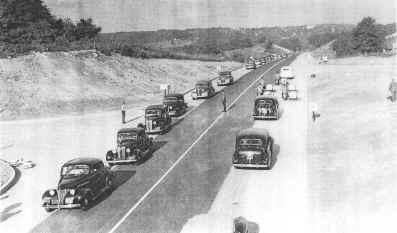 ---
© 2003 John A. Bullock III.
Graphic Details Publications
This page last updated 10/18/05