Home > Schools > Private & Parochial > St. Michael's School
St. Michael's School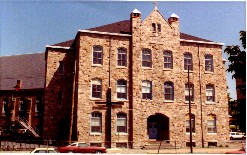 Photo courtesy of Helen M. (Webber) Imburgia
7th Street
Chester, PA
[St. Michael's Class Reunions]
Principals | Faculty | Staff | Classes | School History | Recollections

Principals:

| | |
| --- | --- |
| | Mother St. Felix (until 1961) - 2 |
| | Mother Miriam Alacoque (1961-64) - 2 |
| | |





---

Faculty:
Some Teachers:

Sr. St. Martha [Biography & Photo]

Some of the Sisters of St. Joseph during the 1960's: - 1
Sr. Joseph Michelle
Sr. Miriam Lasalette
Sr. Francis Bernard "my favorite"
Sr. Baptista

Thanks to my old report cards, I can add some names to the list of teachers from the 1960's - 2

Sister Rita DeLourdes taught first grade during the 1959-60 school year. Of course, I had Sister St. Martha in second grade. Didn't everybody ? She taught my mother and aunts and uncles when they were in second grade, too.

In third grade, it was Sister Joseph Patrice, at least for most of the year. She was switched to fourth grade late in the school year, so we finished out 3rd grade with a lay teacher, Miss Margaret Gentry. Sister Joseph Patrice was still teaching fourth grade in 1962-63, so I ended up with her two years in a row.

Fifth grade is a mystery. We started the year with one nun, but she was transferred about a month or so after the start of the school year. The nun who replaced her turned out to be a childhood friend of my mother. Neither of these Sisters signed my report card that year, and don't remember either of their names.

Sixth grade (1964-65) was my favorite, Sister Marie St. Jude. Sister Michael Immaculate (seventh grade) and Mother Helen Augustine (eighth grade) were my least favorite teachers.

There were three principals during those years:
Mother St. Felix (until 1961)
Mother Miriam Alacoque (1961-64)
Mother Helen Augustine (beginning in 1964)

---

Staff:

---

Classes:

---

School History:

---

Recollections:
"Your section on St. Michael's parish (both the church and the school) really brought back some memories. I attended St. Michael's school for eight years, from September 1959 through June 1967. Thanks to my old report cards, I can add some names to the list of teachers from the 1960's.

Thanks for providing this opportunity to recall so many memories from years ago. Perhaps some of my former classmates will read this and add their own memories of a great parish. St. Mike's may be closed now, but it will never be forgotten."

Joe Smagala

---

Most memorable day:
Nov. 22, 1963
For the life of me I can't remember who taught us in second grade. Sr St. Martha had just been transferred and I have no recollection of who our teacher was. Mother Mary Aloqua, then Principal, entered our classroom and paced across the front of the classroom. "Have you heard the news" she asked? "President Kennedy has been shot...shot in the head!"

We all were shocked of course. And with that she told us all to gather our books and go home.

Of course there were many wonderful times there too!
Singing in the choir of our beautiful church."
Many thanks to the following for supplying additional information for this page:

2 - Joe Smagala
---
© 2001, 2004 John A. Bullock III.


This page last updated 02/24/07