Home > Schools > Public Schools > Langston Public School
Langston Public School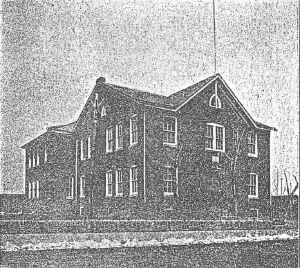 Photo from Home Directory of the Colored People of Chester, 1906 compiled by Lawrence L. Barrett & C. I. Wilson. The photographs in the book were taken by Mr. H. E. Williams, 210 E Broad St., Chester.
Corner of Fourth & Edwards St
Principals | Faculty | Staff | Sports | Classes | School History | Recollections
---
Principals:

Professor Samuel G. Thomas (? - 1906 - ?)

Professor Thomas later married Eleanor C. Pinkett, a teacher at this school. He was born c. 1866 and died in May 1920, perhaps from a heart attack suffered while working at school. - 1





---

Faculty:
Some Teachers:


1906:

Eleanor C. Pinkett (later married Professor Samuel G. Thomas) - 1
Sarah E. Hamilton
William K. Valentine
Novella Salsbury
Sarah B. Gibbs
Hattie S. Wilson
Ada D. Kilson

Other teachers who had served one or more terms by 1906:

Mr. Miles Tucker
Mrs. C. M. Sterling-Piper
Mrs. Emma K. White-Porter
Miss Henrietta Hucless
Mr. Samuel W. Hamilton
Mr. Isaac Lawrence
Mr. Basil Washington
Mr. George E. Johnson
Mrs. Mary L. Baptist-Harper

---

Staff:
James A. Richardson, janitor, 1906

---

Sports:
Some Coaches/Athletic Directors:


---

Classes:



---

School History:
The following brief History of Langston Public School is taken from the Home Directory of the Colored People of Chester, 1906 compiled by Lawrence L. Barrett & C. I. Wilson. This reference is available at the DCHS research library.

Langston Public School, corner of Fourth and Edwards street, was erected in 1889. At the time of its erection it was known as Lincoln School, but when the City of Chester and the Borough of South Chester were annexed, there being a Lincoln School in the city, it was suggested by the Board of Directors that the name of this school be changed to Langston.

When erected it was a four-room building, only two of which were occupied. But owing to the rapidly increasing population it has been enlarged to an eight-room structure...

The grades range from first to the eighth, the preparatory to the High School. There is installed in this commodious building a heating plant costing more than $1400.

---

Recollections:
August 2004:

"Years ago when we were in high school and my sister and I would practice cheers before a football game, my grandmother used to tell us the cheer she remembered from her young days (this would have been about 1890). It was "Whoop 'em up a-Langston, Whoop 'em up again!" She told us they used to be fans of a "colored" team who played in Lamokin Woods. I didn't realize then that it was a school. Thought that might make an addition to the Langston section of the site."

- Kay (Krell) Hutchinson
---
Many thanks to the following for contributing additional information for this page:

1 - Michael H. Goodwyn, Santa Clarita, CA, great grandson of Samuel G. Thomas and Eleanor C. Pinkett Thomas
If you have any information and or pictures that you would like to contribute about this school, please forward it to john@oldchesterpa.com
---
© 2003, 2007 John A. Bullock III.

This page last updated 03/05/07