Home > Schools > Public Schools > George Jones School
George Jones School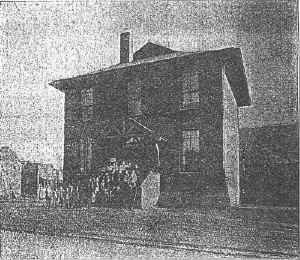 Photo from Home Directory of the Colored People of Chester, 1906 compiled by Lawrence L. Barrett & C. I. Wilson. The photographs in the book were taken by Mr. H. E. Williams, 210 E Broad St., Chester.
17th & Walnut
Principals | Faculty | Staff | Sports | Classes | School History
---
Principals:

| | |
| --- | --- |
| | Miss Marie E. Lockwood (? - 1906 - ?) |
| | Ella Bailey (c. 1928, 1929) |





---

Faculty:
Some Teachers:


---

Staff:

---

Sports:
Some Coaches/Athletic Directors:


---

Classes:

---

School History:
The following sketch on the naming of the school is from the Manual of the Public Schools of the City of Chester, PA. It was written mainly by Principal Thomas of the Watts School:

"George Jones, the first colored teacher of a colored school in Chester, was born in Camden, Del., in the year 1819. His early years were spent on a farm. He came to Chester about 1843. By studying diligently at night he acquired a fair education for a member of his race at that time, and in 1853 opened a school in the basement of Asbury A. M. E. church, on Second Street, above Market, where he taught successfully for several years. For many years after his school was closed he was employed as a foreman by Morton and Black. Mr. T. Frank Black speaks of him in terms of unqualified praise, as an unusually intelligent, faithful and reliable employee. He was a director in North Chester from 1880 to 1881, and again from August 18, 1881 till his death in May, 1886. On May 26, the day of his funeral, both schools of the district were closed as a tribute of respect - in his case no mere form."

---

The following brief History of George Jones Public School is taken from the Home Directory of the Colored People of Chester, 1906 compiled by Lawrence L. Barrett & C. I. Wilson. This reference is available at the DCHS research library.

This beautiful building of two rooms, built in the year 1902, is situated on the corner of Seventeenth and Walnut streets. It has accommodations for about 80 pupils, and is splendidly equipped with all modern improvements.

The following persons have successfully taught in the building several terms: Mrs. Frances G. Anderson-Davis and Miss Laura V. Highgate. The present teachers are Miss Marie E. Lockwood, principal, and Mrs. Henrietta White-Barrett. Mrs. James Hinkson, janitress.

---
If you have any information and or pictures that you would like to contribute about this school, please forward it to john@oldchesterpa.com
---
© 2001, 2002, 2003 John A. Bullock III.

This page last updated 02/22/07