Home > Schools > Public Schools > Eddystone High School
Eddystone High School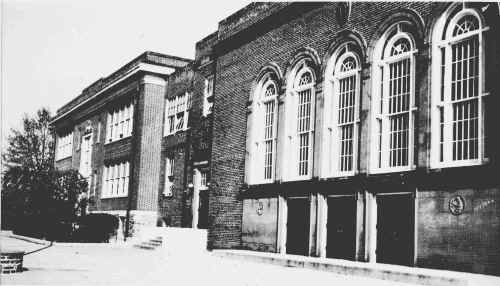 Photo courtesy of Carole Gelnack Mullen, CMullen528@AOL.com
Eddystone, PA
School Colors: Red & Blue
Nickname: "The Stoners"
Grades
Principals | Faculty | Staff | Classes | School History
---
Principals:

Wilmer Fryer
Photo courtesy of
Carole Gelnack Mullen,
CMullen528@aol.com

1956: - 1

Supervising Principal...Wilmer Fryer

Horace Erb
Photo courtesy of
Carole Gelnack Mullen,
CMullen528@aol.com

Senior High Principal Horace Erb

Rodman Smith, Jr.
Photo courtesy of
Carole Gelnack Mullen,
CMullen528@aol.com

Junior High Principal Rodman Smith Jr.

Miss Dorothy Taylor
Photo courtesy of
Carole Gelnack Mullen,
CMullen528@aol.com

Elementary Principal Miss Dorothy Taylor

Henry Rosse
Photo courtesy of
Carole Gelnack Mullen,
CMullen528@aol.com

Director of Vocational Education...Henry Rosse





---

Faculty:
Some Teachers:


From the 1956 Annual: - 1

George Achterman...Vocal Music
Wm. Basset...Soc. Studies, Physical ED.
Jack Bixby...Driver ED., Geography
Franklin Bratton...Instrumental Instruction
Vivian Carson..Physical ED
Ruth Chamberlain...Home Economics
Geneva Dolbow..Latin, French, Spanish
Harry Charlton...Mech. Drawing, Math
Albert Grieser...Vocational-Machine
Wilmer Kimes...Vocational-Wood
Dominic Marion...Science, Social Studies
Bernice Glenn...English, Guidance
Margaret Graham..Girls Athletic Dir., Physical ED
Ann McGillen..Typing, Shorthand
Kathryn Mitchell...Bookkeeping, Office Practice
Mrs. Price...Typing, Office Practice
Mrs. Oppenlander....Librarian
Wm. Rankin..Dir of Athletics, Science, Geography
Irene Pileski..Social Studies
Roberta Roberts...English
Mr. Rarick..Science
Mr. Rawlings...Math
Mrs. Roulet...English
Mrs. Scanlan...Math
Eugene Soltner...English, Physical Ed
John Webber..English, Soc.Studies
Edward Wheelahan..Vocational -Electric
Alice Wilde..Art
Joseph Yorke...Industrial Arts
Evelyn Young...English
Joseph Zaffiro...Social Studies

---

Staff:
1956 Staff: - 1

Ellen Davis...Nurse
Dr. Joseph Gallia MD
Dr. Gates Dentist
Helen Abramchuk, Devona Johnson, & Jean Restucci - Secretaries

---

Classes:
1956 Class Officers: - 1

Elaine Redding-President
Glenna Wood-Secretary
George Matteo-Treasurer
William Fortuna-Vice President.



---

School History:
"How about the fire at the old Eddystone High School 12/11/1960. It broke out in a boiler room that was located under the art room. Fortunately the school was closed that day because of snow or there could have been allot of people hurt.

At the time of the fire we would have been in our home room classes, one of which was the art room. The school was going to be closed then but thanks to the churches in Eddystone who offered rooms for classes as did the old Eddy Morie, the Bowling Alley on Chester Pike offered to have it used for gym classes, we were able to stay together as a class of 1961 and graduate from there instead of being sent to Ridley Twp and/or Ridley Park High Schools.

The High School eventually closed and it was consolidated with the Ridley School District but it was a good school at the time with allot of happy memories for many of us."

Thanks to Diana, aug30@home.com, for this recollection.
1 - Thanks to Carole Gelnack Mullen, CMullen528@AOL.com
If you have any information and or pictures that you would like to contribute about this school, please forward it to john@oldchesterpa.com
---
© 2001 John A. Bullock III.

This page last updated 10/18/05