Home > Schools > Public Schools > Clayton School
Clayton School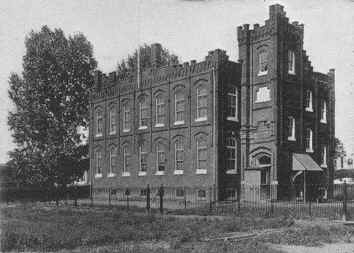 Photo from Chester and Vicinity © 1914 by Hy. V. Smith
7th & Harwick (7th bel. Highland)
Principals | Faculty | Staff | Sports | Classes | School History
---
Principals:

| | |
| --- | --- |
| | Sarah Benton (c. 1928, 1929) |
| | Mary Reid (? - 1950 - ?) - 1 |





---

Faculty:
Some Teachers:

The following were also teachers at Clayton prior to Wm. Penn. - 2

Helen M Greenhalgh
H.M Newswanger [form. Miss Miller]
N.D. Sproat
C.Y. Stahl

More Clayton teachers: - 3

Jane (Eyre) Cardwell or Caldwell (the mayor's daughter) (my gym teacher)
Mrs. Jump
Mrs. Davis (my 1st grade teacher)
Mrs. Collins (my 2nd grade teacher)
Mrs. Wright (my 4th grade teacher)
Mrs. Berger (my 6th grade teacher)

---

Staff:

---

Sports:
Some Coaches/Athletic Directors:


---

Classes:



---

School History:
The following sketch on the naming of the school is from the Manual of the Public Schools of the City of Chester, PA, compiled from "standard authorities" and with the assistance of Henry Graham Ashmead, Esq.:

"The Clayton School bears the name of the late Judge Clayton, whose career as President Judge of the courts of Delaware County is still fresh in the recollection of every one.

"Judge Clayton was born in Bethel township, January 20, 1826. He was the oldest of four brothers, all of whom possessed unusual force of character and became more or less eminent. Thomas J. Clayton was admitted to the bar of his native county November 24, 1851, at the first session held in Media. His practice as a lawyer, however, was chiefly in Philadelphia. In 1874 he was first elected Judge as an independent candidate, and again in 1884 and 1894 as the Republican candidate. He exhibited conspicuous ability on the bench, and his decisions were seldom overruled by the higher courts.

"Judge Clayton was a director in the District of the Borough of South Chester from 1872 to 1874, and resided for over thirty years near the site of the school which bears his name. He died January 30, 1900, and is buried in the old cemetery in his native township."

Many thanks to the following for providing additional information for this page:

1 - BobVaughan

3 - Helen M. (Webber) Imburgia (DCGS)
If you have any information and or pictures that you would like to contribute about this school, please forward it to john@oldchesterpa.com
---
© 2001, 2004 John A. Bullock III.

This page last updated 10/18/05