Home > Utilities > Philadelphia Electric Company (PECO)
Old Chester, PA: Philadelphia Electric Company
(PECO)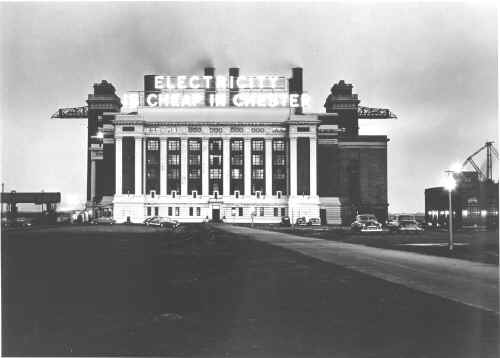 Chester Generating Station, Front & Ward Streets;
Photo above courtesy of John Harrison, RTRDLD@aol.com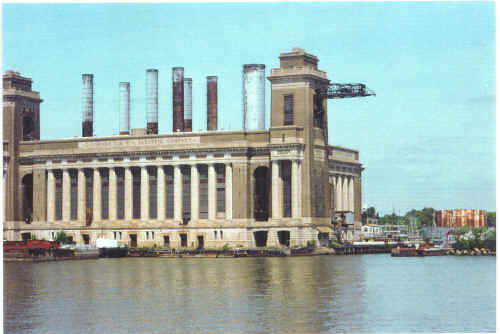 Photo above courtesy of TinaMarie Little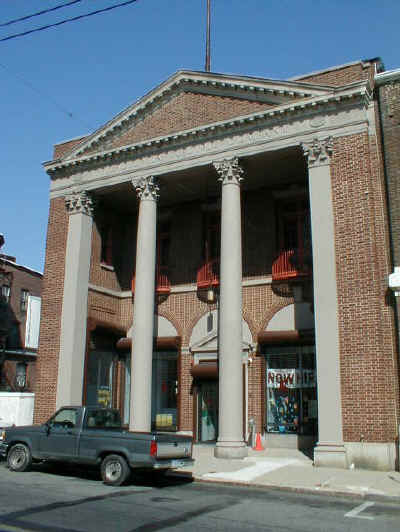 Philadelphia Electric Company, E5th St.
Photo © April 27, 2002 John A. Bullock III.
Presidents | Other Employees | Company History | More Photos
Click here to visit the PECO Energy web site.
On October 11, 2000 plans were announced to develop Rivertown on this property.
---
Presidents:

---

Other Employees
John Harrison (retired)

---

Company History:
Opened in 1918, the Chester facility was Philadelphia Electric Company's first expansion outside of the city. The Chester Generating Plant (picture above) was actually built by Delaware County Electric Co. before merging with Philadelphia Electric. The coal and oil burning plant closed around 1980.

The Philadelphia Electric Company in Chester might be best remembered for its large electric sign that proclaimed to all, "What Chester Makes Makes Chester". That sign was atop the Crosby substation at 6th & Crosby Streets. That substation was torn down some time in the early 1980's.

The current Exelon Corporation was formed by the merger (announced on September 23, 1999) of PECO Energy and Unicom Corporation, the parent company of ComEd.

Thanks to John Harrison, RTRDLD@aol.com for adding to these historical notes.

---

More Photos:

Photo courtesy of TinaMarie Little

Philadelphia Electric Company Turbine
Collection of interior photos by Jeffrey Totaro

Jeffrey Totaro (Click on "Gallery")
If you have any information and or pictures that you would like to contribute about the Philadelphia Electric Company in Chester, please forward it to john@oldchesterpa.com
---
© 2001, 2002, 2006 John A. Bullock III.

This page last updated 04/07/06