Home > Churches > Protestant > Presbyterian > Bible Presbyterian Church
Bible Presbyterian Church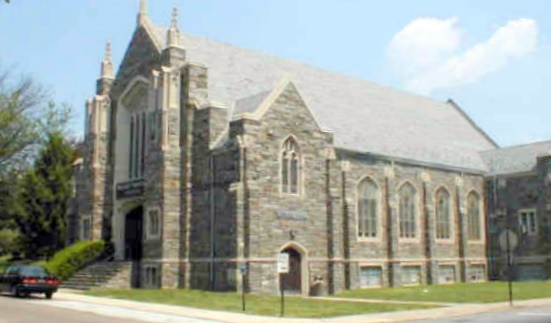 Photo 5/7/2000 John A. Bullock III.
13th & Potter Sts.
Chester, PA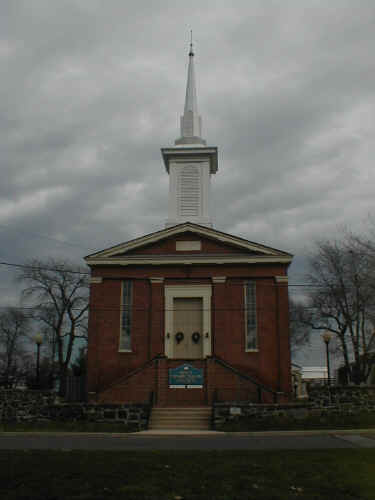 Bible Presbyterian, formerly St. Martin's Episcopal Church,
Marcus Hook, PA
December 17, 2001 © John A. Bullock III.


Former Pastors | Church History | Membership Directory | Recollections If you have any information and or pictures that you would like to contribute about the history of this church, please forward it to john@oldchesterpa.com
---
Former Pastors
Dr. Abraham Lance Lathem (b. May 26, 1866, d. February 21, 1955)

Francis Schaeffer (Assistant Pastor 1940's)

Dr. Jack Murray (Assistant Pastor)

---

Church History
Bible Presbyterian Church was formed when Dr. Lathem left the Presbyterian Church USA. Some former Third Presbyterian members followed him to Bible Presbyterian while others left to form Calvary Presbyterian Church at Middletown & Knowlton Rd.

This congregation now meets at the former St. Martin's Episcopal Church building in Marcus Hook, PA.

The original building at 13th & Potter Sts., now called "Lathem Hall", is a part of the Widener University Campus.

Second home of the World's First Summer Bible School
(reprinted by permission of the author, Mr. Jon M. Clayton)

Summer Bible School Report Card c. 1947-1949, courtesy of Betty Embert (Martino)

---

Recollections:
"Bible Pres (as it was affectionately known) was served in the 1940s by a notable Ass't pastor: Francis Schaeffer.

"Schaeffer and his wife, Edith went to Switzerland and began the internationally famous L'Abri ministry. They were writers and scholars (many books) and he became widely read in colleges as a conservative apologist for the Christian Faith. Edith, I believe, is still living.

"Another assistant pastor was Dr. Jack Murray who later became President of Faith Seminary in Philadelphia and Biblical Seminary in Hatfield, PA.

"Other notable accomplishments by Bible Pres under Dr. Lathem was the establishment of the Summer Daily Vacation Bible School---the FIRST ever in the world! Also, AWANA bands (now prominent throughout the country and especially now in the midwest) were begun by Mr. Pentecost (I believe he was a Math teacher at CHS in the 1930s) under Dr. Lathem's guidance and then Lance Lathem (Dr. A. Lathem's son) popularized them in the midwest when he became the pastor of a church in Chicago. Both DVS and Awana have had a long and influential life. Somewhere (not certain where) there is a booklet that was written to describe the history of these organizations and the seminal influence of Bible Pres."

E. Kuhlman, ginedk@innernet.net
---
© 2000, 2001, 2002 John A. Bullock III.

This page last updated 02/24/07