Home > Business > Meat Packers
Joseph P. Gaskill, Beef & Veal Butcher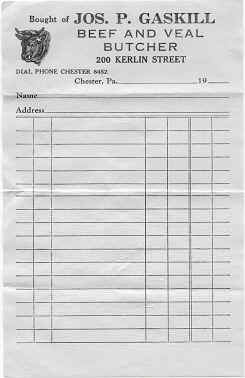 Order sheet courtesy of Mike Majeski
This order sheet is from my Great Grandfather's butchering business in Chester, Pa., which operated from approximately 1900 to 1940.
Joseph P. Gaskill bought bulls and calves from farmers in the western part of Delaware Co. In the early years of the business, the animals were walked from the farms to Chester, via Concord Road. The animals were watered and rested at the livery stable near the hotel at five points in Chester Heights. The drovers enjoyed cold beer at the inn. Joseph P. Gaskill and his sons, Joseph, William and Francis, slaughtered the animals and butchered the meat for sale to local stores and restaurants.
A Rabbi frequently visited the shop to assist in the preparation of some of the meat for sale to Jewish customers.
Hides were sold to leather shops in the area and the waste products were picked up by fox hunters in Middletown Township to make dog food.
Michael W. Majeski
2002
---
© 2002 John A. Bullock III.
Graphic Details Publications
This page last updated 10/18/05