Home > Businesses > Bottlers > Chester Brewery
Old Chester, PA: Chester Brewery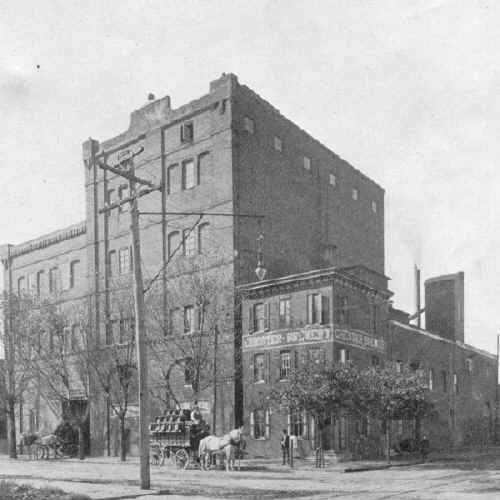 Photo above from Souvenir History of Chester, PA
under the auspices of the Board of Trade
Published by George M. Burns, Philadelphia, PA 1903
courtesy of Terry Redden Peters
2400 W. 2nd Street
(2nd & Palmer Streets)
Presidents | Company History | Images
---
Presidents:
1903 officers:

John G. Forstburg, President & Manager
Wm. J. McClure, Secretary & Treasurer

---

Company History:
The Chester Brewery closed c. 1953.

---

Images
"This is a wooden case with the metal bands around the edges (remember?) and Chester Brewing Co is burned into the wood on all four sides. All 24 bottles are in good shape for their age as well as the labels. On each label is printed "Internal Revenue Tax Paid" which indicates that these bottles were from the late 1930's or into the 1940's. Chester Beer "The beer that makes friends" was located at 2nd & Palmer sts. They also made a beer called the SILVER DIME. The brewery closed around 1953.

- Joe Greenwalt, RET, Chester Police Department

---

The following images are courtesy of Paul Rzasa, przasa@erols.com

Paul adds, "My dad tells me his older brothers used to give him a 2 nickels to ride his bike to the old Chester brewery for 2 pales of beer. If he spilled any on the ride home they would beat him up."

(Click on the thumbnails to see the full-size version)

The following image is courtesy of Hank Ternove, hternove@comcast.net

An early McClure bottle courtesy of Raquel McClure, IL (not related to the Chester McClures).

Chester Pilsner coaster photo courtesy of Paul Crowther:

Collection of Chester Brewery trays courtesy of Frank Wood:
If you have any information and or pictures that you would like to contribute about Chester Brewery in Chester, please forward it to john@oldchesterpa.com
---
© 2000, 2002, 2004 John A. Bullock III.

This page last updated 10/18/05