Deakyne Brothers Wholesale Confectioners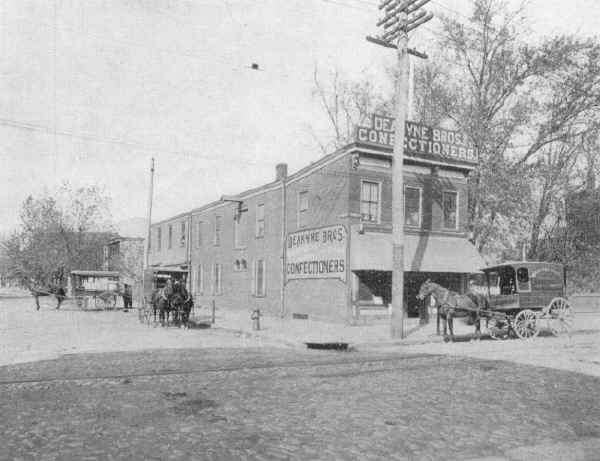 Photo above from Souvenir History of Chester, PA
under the auspices of the Board of Trade
Published by George M. Burns, Philadelphia, PA 1903
courtesy of Terry Redden Peters
Presidents | Other Employees | Company History | Recollections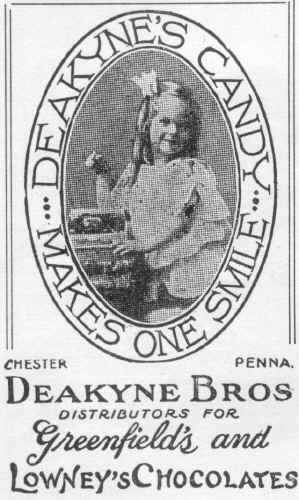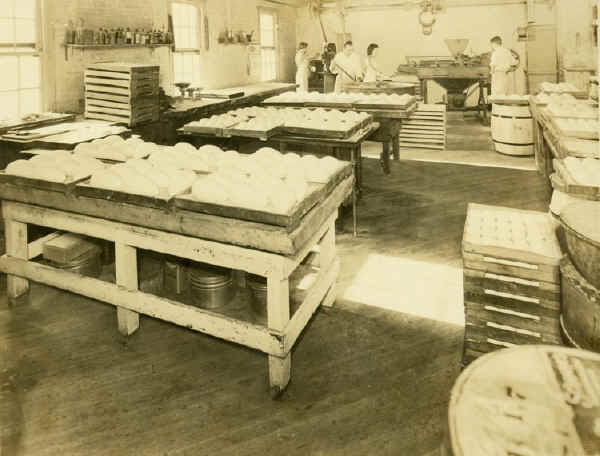 Photo of Easter eggs (above), courtesy of Peggy Mealy, peggy@mealy.com
---
Presidents:
1903 Officers:

Dean J. Deakyne
David W. Deakyne

---

Other Employees
Walter "Captain Pete" Chadwick (1902-1949-?)

---

Company History:
The following sketch of the company is taken from the Souvenir History of Chester, PA under the auspices of the Board of Trade, Published by George M. Burns, Philadelphia, PA 1903; courtesy of Terry Redden Peters:

Deakyne Bros. Wholesale Confectioners are composted of Dean J. and David W. Deakyne, the latter serving a practical apprenticeship of six years with W. F. Cutler & Son, then located at intersection of Market Street, Edgmont Avenue and railroad.

They started in a small frame building, near Fifth and Kerlin Streets, in 1884, with marked success from the start. After three years they built a factory and stabling for horses in rear of 318 Parker Street, and purchased present building, where now located, N. E. Corner Third and Parker Streets, in 1894, which building has been entirely remodeled on the inside. They now have one of the nicest fitted stores and complete stock, which is not exceeded by any wholesale jobbing candy house in the state, and have a model factory on the second floor for manufacturing a handmade line of candies, having just lately put in some machines run by electricity for their constantly increasing business. By strict attention and catering to the wants of the trade this firm have become the leading wholesale candy house in Chester and deliver goods from their own wagons in all parts of Delaware County.




---

Recollections:
If you have any information and or pictures that you would like to contribute about Deakyne Bros. Wholesale Confectioners in Chester, please forward it to john@oldchesterpa.com
---
© 2002 John A. Bullock III.

This page last updated 10/18/05